Hailed as "…one of the best albums of 2019" by New Release 
Stars Go Dim releases its sophomore set, Better, today (5/17). Critics are already complimenting the fresh collection of original songs, with New Release Today calling it "…one of the best albums of 2019 to date." Stars Go Dim is the moniker for Christian pop artist and songwriter Chris Cleveland, best known for his multi-week No. 1 hit, "You Are Loved," from Stars Go Dim's self-titled debut. His highly-anticipated follow-up, Better, has been in the works for nearly two years, as he began writing some of the album's selections as early as 2017. Listen to the full album here: http://smarturl.it/SGDBetter.
Cleveland co-wrote all 12 tracks on Better, several of which were serviced to DSPs, song by song, leading up to today's full release. With an unmistakable falsetto that uniquely marks every melody he lends his voice to; Cleveland proves he's one of the format's premier vocalists. His crisp vocals and vibrant songwriting have already made lead single "Heaven On Earth" a popular hit. Meanwhile, the title track, "You Know Me Better," is currently climbing the radio charts. The performance video for the song—filmed in one take with a single keyboard and powerful Gospel choir—has garnered an incredible response from fans on social media. Watch the video for "You Know Me Better" HERE.
In honor of Mother's Day, Stars Go Dim surprised fans on Sunday with the release of another stunning performance video for "For Worse Or Better," a song he wrote for his wife of seven years. The visual is the first in a series of "Soul Sessions" he'll share in the coming months. Bathed in soft hues of purple and blue, the clip celebrates the highs and lows of a long, committed relationship. The song is one of a dozen snapshots on Better that reflect the songwriter's real life.
"Songs are like little polaroids in a scrapbook—the kind my mom used to haul out of the closet when we were kids to show us what life was like before we could remember. I'm not sure those exist anymore with the rise of cell phones and technology, but for me, that's how I feel about my records," Cleveland shares. "My latest project, Better, is simply that—little polaroids of real life told through songs. The past few years have been full of transition, pain, hurt, redemption, joy, love…full of life. I hope that's what you hear when you listen to these songs. It's just me being honest about what was happening at the time."
Stars Go Dim has already been previewing new music out on the road this year as direct support for Francesca Battistelli's The Own It Tour and, most recently, Building 429's Live The Journey Tour. Look for Stars Go Dim to join the "Reason Tour" with Unspoken this Fall.
For more information, visit www.starsgodim.com or on all social platforms @StarsGoDim.
About Stars Go Dim:
Originally formed as a mainstream pop band, today Stars Go Dim is the moniker for Christian pop artist and songwriter, Chris Cleveland. After years at the helm of an acclaimed independent secular band and more than a decade leading worship at Tulsa's Asbury United Methodist Church—one of America's largest congregations—Cleveland found success in the Christian format with his self-titled debut album. The singer has garnered four Top 5 hits and a massive No. 1 radio smash with "You Are Loved." In addition, Stars Go Dim has toured with for KING & COUNTRY, Lauren Daigle, Phil Wickham and Francesca Battistelli, among others. Stars Go Dim's new album, Better, releases May 17, 2019, and features the hits "Heaven On Earth," "Pieces" and "You Know Me Better."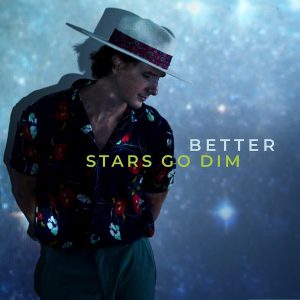 Stream or purchase Better HERE.
Better Track Listing:
1. It's Gonna Get Better
2. I Look To You (feat. Social Club Misfits)
3. Heaven On Earth
4. Pieces
5. You Know Me Better
6. Revival
7. For Worse Or Better
8. I Believe
9. God Is For Us
10. Invisible
11. All Free
12. Autobiography