"GOD ONLY KNOWS" TO BE RELEASED TONIGHT
Music Video Premieres On YouTube Tonight At 12 am ET / 11pm CT
Two-time GRAMMY® award winning duo for KING & COUNTRY announced today their unprecedented collaboration with the world-renowned entertainer Dolly Parton on a brand-new version of their award winning single "God Only Knows," as well as a powerful music video. The iconic Country Music Hall of Famer's presence on the track takes the song to new heights, with shimmering acoustic guitars complementing the song's message of hope. The song will be available at all digital music retailers TONIGHT at midnight ET/ 11 p.m. CT HERE.
"Hearing Dolly sing that chorus and those words was an out of body experience for us as writers and artists," says Joel Smallbone, one half of for KING & COUNTRY. "As soon as we heard her vocals on the track, we immediately realized that this song was meant for her voice."
Dolly reflects, "When I first heard 'God Only Knows' I thought it was one of the best songs I'd ever heard. I came from a very spiritual background, and I love anything to do with inspirational songs that lift people up. I feel that this is a good song for right now, and it's so well written. I know that it touched me at a time when I needed to be lifted up."
Additionally, Dolly is featured in a powerful new music video for "God Only Knows," as she and the Smallbone brothers struggle to find themselves before resigning to faith and belief. The full-length video was shot in Nashville, produced by Patrick Tohill and directed by Benjamin Smallbone. It will premiere TONIGHT (8/29) on YouTube at 12 a.m. ET / 11 p.m. CT, check it out HERE and NOW you can view a teaser clip HERE. CMT will be premiering the video via broadcast on Friday morning.
In a USA Today/Tennessean exclusive, for KING & COUNTRY discuss the details of how the collaboration came to be. You can read the article and watch the exclusive interview HERE. Entertainment Tonight has the exclusive behind-the-scenes footage from the set of the music video, which will air today. Check your local listings. The exclusive will be broadcasted and shared online at 8 p.m. ET.
"God Only Knows" recently won "Song of the Year" honors at the K-LOVE awards, received a Dove Award nomination for Pop/Contemporary Recorded Song of the Year, and held the No. 1 spot on Billboard's Top Christian Songs chart for 11 weeks. Additionally, the song hit Top 30 on Mediabase and Billboard's Hot AC charts while garnering 330 million radio impressions and over 65 million streams across all digital platforms.
About for KING & COUNTRY
Two-time GRAMMY® award-winning Australian duo for KING & COUNTRY is comprised of brothers Joel & Luke Smallbone. October 2018 saw the release of their much anticipated third studio album burn the ships, which debuted at #7 on the Billboard Top 200 Albums chart. The album's soaring GRAMMY® nominated debut single, "joy," held the No. 1 spot for four consecutive weeks, marking the group's highest debut on three Billboard charts. Their current single, "God Only Knows" has reached #1 on the Billboard Audience chart and has accumulated close to 65 million global on-demand streams, increasing the duo's career on demand streams to 661 million. To kick off 2019, Joel & Luke launched Part I of their burn the ships | world tour, performing in their Australian homeland for the first time and selling out every show, including the iconic Sydney Opera House. Their previous album, the gold-certified RUN WILD. LIVE FREE. LOVE STRONG. debuted at No. 1 on iTunes, and produced two GRAMMYs®, four Dove Awards, a successful 60-date arena tour, and a world tour that has so far produced 22 sold out dates. They have garnered five No. 1 hits, nine Top 10 hits, and had songs featured on the Emmys, Super Bowl, Sunday Night Football and other high-profile events, including performances on The Tonight Show, Today Show, and Jimmy Kimmel Live! In October 2016, the Smallbone brothers released the indie film inspired by their No. 1 hit of the same name, Priceless, about human trafficking.
For more information on for KING & COUNTRY, go to:
Or follow them on:
Facebook / Twitter / Instagram / YouTube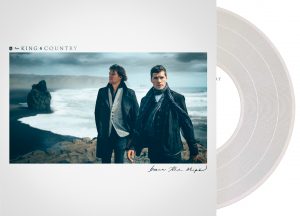 Track Listing
1. Introit
2. joy.
3. God Only Knows
4. Amen
5. Burn The Ships
6. Fight On, Fighter
7. Need You More
8. Control
9. Never Give Up
10. Hold Her
11. Pioneers (feat. Moriah & Courtney)