Band Kicks Off September With A New Album, Headlining Tour, TV Show, And Book, All Coming In The Next Two Weeks
The anticipated new project from Big Daddy Weave, When The Light Comes (Curb | Word Entertainment) officially releases September 13. The album is available for pre-order now by clicking here. Upon pre-ordering, fans immediately receive four of the new songs, including "This Is What We Live For," which releases today. Be sure to view the song's new lyric video, just released today.
Leading up to the debut of When The Light Comes, the band's upcoming headlining tour is also getting underway, along with Mike Weaver's book release, and a new eight-episode TV reality series about the band set to air on TBN this fall. Further details are below.
NEW ALBUM, WHEN THE LIGHT COMES, DROPS SEPT. 13: The songs found on When the Light Comes all encompass a deep and personal faith in Jesus. Yet while it's one thing to sing about trusting God in the midst of trials, the five members of Big Daddy Weave – Mike Weaver, Jay Weaver, Jeremy Redmon, Joe Shirk, and Brian Beihl – have each learned what it means to truly live by faith and to trust in a God who makes all things new.
While creating their new project, produced by the band's guitarist Jeremy Redmon, the group was working from an unfamiliar place, as the inspirational and uplifting themes found in the group's music were desperately needed by the members themselves. "The songs were all written from a place of processing grief and sorrow," shares lead vocalist, Mike Weaver. "We were in a season of serious hurting." The list of trials the band was going through, especially over the past three years, was nearly overwhelming. Instead of avoiding the painful truth of their struggles, the band pushed themselves to put it all into the songs. During that process, an underlying current of rejoicing broke through. As bassist Jay Weaver puts it, "Only Jesus can turn sorrow into joy."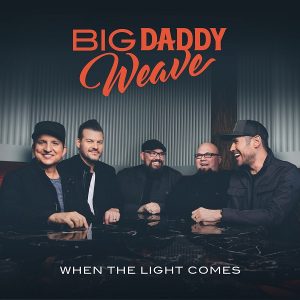 When The Light Comes song listing:
1.      Alive
2.      This Is What We Live For
3.      Turn On The Light
4.      I Know
5.      What I've Got
6.      The Name Of Jesus
7.      I Want To Tell The World
8.      Pursuit
9.      Your Love Changes Everything
10.   Walking In The Light Of Your Love
11.   All Things New
12.   Fly
FALL LEG OF "THE ALIVE TOUR" BEGINS: Big Daddy Weave will headline "The Alive Tour" this fall, which kicks off Sept. 12 in Tulsa, OK. The band will perform many of their new songs as well as previous hits and fan favorites. Running through November 24, this is the final leg of their year-long "Alive Tour." The most updated tour schedule can be found here.
I AM REDEEMED BOOK LAUNCH: Big Daddy Weave lead singer Mike Weaver collaborated with the band's manager, Jim Scherer, to pen the book I Am Redeemed, published by Hachette Book Group. The work, releasing September 3, is subtitled Learning to Live in Grace. The book explores the truths Weaver has learned about being redeemed, beginning during his childhood and through the recent events and trials of the last few years. The first book signing events for the release are scheduled for Books-A-Million in Mt. Juliet, TN on Saturday, Sept. 7 and Saturday, Sept. 28 at Barnes & Noble Cool Springs in Brentwood, TN.
TV REALITY SERIES "WHEN THE LIGHT COMES" DEBUTS: Mike Weaver had it put on his heart to share, through a televised medium, what the group has been seeing happen within the band and in their community of family, friends, and fans. Around that time, the same idea was put on the heart of TBN's Matt Crouch, who contacted Weaver, not knowing he too had been given a similar vision. The ultimate result of that conversation is the eight-episode reality series When the Light Comes. Filmed on tour, in the studio, and in the homes of the band members, When the Light Comes debuts Wednesday, September 11 on TBN. Be sure to view the series trailer here. Weekly air times are 6:30pm PT / 9:30pm ET and again at 10:30pm PT / 1:30am ET.
BAND STATEMENT FOR "REDEEMED" LYRICS IN TRIAL CONFESSION: Big Daddy Weave has released a statement in regards to the news out of Murfreesboro, Tennessee this week when a man confessed to a murder he committed in 2016 after hearing the band's impactful song "Redeemed." Click here for the original story. They share the following words, "We are continually amazed at how God has used this song. The moment we started singing 'Redeemed,' stories began to pour in of God's grace. But as a band, we have nothing to do with the stories we hear about the song, it's only Jesus. Only He can use a song in this way. We're so thankful for all God continues to do."
For more information, visit their website BigDaddyWeave.com and their social links below.
ABOUT BIG DADDY WEAVE: Big Daddy Weave is one of Christian music's most beloved artists. A mainstay at radio, the band has achieved multiple No. 1 singles, including "Alive," "Love Come To Life," "Redeemed," "The Only Name (Yours Will Be)," "Overwhelmed" and "My Story." RIAA Platinum-certified "Redeemed" became an anthem of unprecedented impact when it spent 11 weeks at No. 1, was dubbed "Song of the Year" at the first annual K-LOVE Fan Awards, and earned Dove Award and Billboard Music Award nominations. Their follow-up hit, "The Lion and The Lamb," has become one of the genre's most-streamed songs. Their current chart-topping single, "Alive," from When The Light Comes, currently holds more than six million on-demand streams, while the band's song catalog has an astounding 285 million career on-demand streams.

Big Daddy Weave members are Mike Weaver (lead vocals, guitar), Jay Weaver (bass, vocals), Jeremy Redmon (guitar, vocals), Joe Shirk (saxophone, keys, vocals) and Brian Beihl (drums). The band has released eight full-length projects, their ninth, When The Light Comes, is set to release September 13, 2019. They have amassed more than one million units in album sales and have received numerous honors, including a Dove Award, ASCAP and BMI Awards, and the prestigious Rich Mullins Artist Impact Award, among others. Visit bigdaddyweave.com and on their social links below for more information.