Sidewalk Prophets is giving their fans an early Christmas present with the release of an expanded version of their beloved holiday album, Merry Christmas To You (Great Big Family Edition), available today (11/8). The seasonal project includes all 12 tracks featured on the band's original 2013 release, as well as four brand-new recordings. The four additional tracks include two classic carols, "O Little Town of Bethlehem (Emmanuel)" and "O Holy Night"; and two originals, "Great Big Family Christmas" and "Don't Forget The Star." A full track listing is below. Listen to Merry Christmas To You (Great Big Family Edition) HERE.
"When I get asked what album I am most proud of, I always say our Christmas record. It is full of joy, fun, memory-making and celebration. Our deluxe version of the album is like an extra dose of sprinkles on top of the Christmas cookie. The new songs add to the fun and pay homage to the reverence of my favorite time of year," shares Sidewalk Prophets front man Dave Frey. "So when your family gathers together to deck the halls with laughter, make sure this album is a part of the soundtrack for holiday fun. It's the perfect way to tune your heart and soul to celebrate the birth of the King of Kings."
Sidewalk Prophets will celebrate the season with their fans on the 2nd annual Great Big Family Christmas Tour 2019, kicking off Dec. 5 in Lansing, Mich. On the 11-city outing, the band will share holiday favorites, hit songs and new music, including their current radio single, "Smile." A full list of Christmas tour dates can be found below.
Merry Christmas To You (Great Big Family Edition) Track Listing:
What A Glorious Night
White Christmas (feat. Francesca Battistelli)
Give Me Christmas
Have Yourself A Merry Little Christmas
Hey Moon
Merry Christmas To You
Holly Jolly Christmas
What Child Is This
That Spirit of Christmas
Silent Night
Hope Was Born This Night
Because It's Christmas
Great Big Family Christmas
Little Town Of Bethlehem (Emmanuel)
Don't Forget The Star
O Holy Night
Great Big Family Christmas Tour 2019 Tour Dates: 
12/5 – Lansing, MI
12/6 – Cincinnati, OH
12/8 – Monroe, MI
12/11 – Fort Wayne, IN
12/12 – Decatur, IL
12/13 – Edina, MN
12/14 – Bourbonnais, IL
12/15 – Indianapolis, IN
12/18 – Monroe, NC
12/19 – Nashville, TN
12/20 – Glasgow, KY
*All dates subject to change.
About Sidewalk Prophets:
With a career spanning three major label studio releases—These Simple Truths (2009), Live Like That (2012) and Something Different (2015), plus 2013's celebrated holiday offering, Merry Christmas To You—and multiple hits, including Gold-certified "The Words I Would Say," "You Love Me Anyway" and "Live Like That," among others, Sidewalk Prophets remains a mainstay at Christian radio. The Dove Award-winning band has sold more than 740,000 albums and 1.8 million digital tracks. In addition, the group has garnered five No. 1 songs, nine top five radio singles and more than 39 million views on YouTube. The band originally formed at Indiana's Anderson University, and since signing with Curb | Word Entertainment, they've been nominated for a Billboard Music Award, multiple K-LOVE Fan Awards and four Dove Awards, taking home the New Artist of the Year Dove in 2010. Over the course of their career, they've played for more than 2.5 million fans, and counting. Known for spending more days on the road than anywhere else, Sidewalk Prophets' most recent tours have morphed into interactive experiences for their fans, whom they affectionately call "The Great Big Family." The band's new single, "Smile," is available now.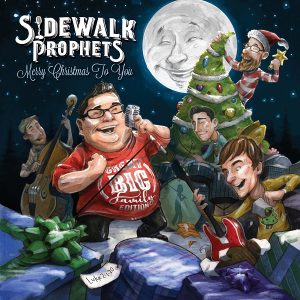 Stream or purchase Merry Christmas To You (Great Big Family Edition) HERE. For more information and all tour dates, visit www.sidewalkprophets.com.