Ahead of the 2019 holiday season, We Are Messengers is re-releasing their Christmas EP, 'God With Us', today (11/1). The five-song set includes the brand-new recording, "This Is Jesus."
Listen to the 'God With Us' EP HERE.
"At Christmas, we remember THE defining moment for all humanity, when God took on flesh to redeem a world lost in its own sin. God did not abandon us, but in His kindness and mercy came to reconcile everything to Himself. Our Christmas EP celebrates Jesus being 'God with us,'" We Are Messengers front man Darren Mulligan says of the seasonal release. "It is because of His birth, perfect life, death and resurrection that everything has and is being made new. Rejoice, God is with us!"
Set to the melody of well-known hymn "Come Thou Fount Of Every Blessing," new song "This Is Jesus" shines a poignant light on the Savior's birth with original lyrics penned by Mulligan, his band mates Kyle Williams and Drake Kennedy, and acclaimed songwriter Tony Wood. "God sent His Son to be born in a stable to the virgin Mary and to take on human flesh and live the most incredible, holy, wonderful life, and then to die," Mulligan shares, reflecting on the message of the song. "It's almost too hard to fathom, but this is Jesus. He is the King of Glory, here to rescue us."
In addition to the new track, 'God With Us' also features four previously released originals, including a collaboration with hip-hop artist Steven Malcolm. A full track listing is below.
God With Us Track Listing:
From Heaven To Earth (Joy To The World)
God With Us
Flesh & Bone
Christ Our King (feat. Steven Malcolm)
This Is Jesus
Currently, the band is headlining the "Power Tour" in support of their chart-rising single, "Power." With sellouts across the country, the fall outing wraps Nov. 9 in Vineland, NJ. Early next year, We Are Messengers is set to join TobyMac's "HITS DEEP 2020" lineup.
For more info and all tour dates, visit www.wearemessengersmusic.com.
About We Are Messengers:
We Are Messengers is a band focused on spreading the message of God's love and using songs born from their own struggles to impact the lives of their audiences. Originally from Ireland, lead singer Darren Mulligan and wife Heidi moved to the U.S. and saw their music career explode with their self-titled debut album in 2016. The album earned them their first Dove Award nomination for New Artist of the Year and included Top 5 hits "Everything Comes Alive," "Magnify" and "Point to You." Their newest EP release, Honest, features the Top 5 lead single "Maybe It's Ok" while their latest single, "Power," is currently available on all streaming platforms.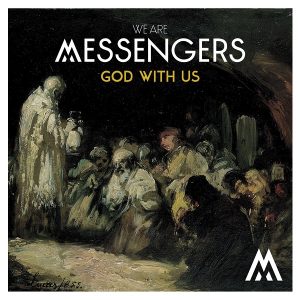 Stream or purchase the 'God With Us' EP HERE.