Six-Song EP Arriving April 24, 2020
New Track and Accompanying Music Video, "You're Gonna Love Me," Available Today (1/24)
Curb Records recording artist Tim Dugger roars into 2020 with new music. The Alabama-native is set to release a six-song EP, Signs of a Good Time, on April 24, 2020. Fans can pre-save and pre-order the EP now. In the meantime, the Country singer gives fans a preview of his forthcoming collection today (1/24/20) as he drops "You're Gonna Love Me" across all digital service providers, along with the release of the accompanying official music video, premiered yesterday (1/23/20) on Sounds Like Nashville. Listen to and watch "You're Gonna Love Me" HERE.
The new track is a heart-on-your-sleeve confessional finding Dugger set in his ways and putting his Earnhardt-loving, momma-respecting, beer-drinking personality on the line. "Everything makes you who you are. I don't recognize the man I was a few years ago," Dugger admits. "Now I think I know who I am, and musically, you need to know who you are. When I write a song, I know exactly what Tim Dugger would say. You're going to affect people's lives, so you better have something to say."
Sounds Like Nashville describes "You're Gonna Love Me" as "a sweet, heartfelt reminder of the simple things in life, and the video carries that message through, as well, with its nostalgic visuals."
The songwriter—born and raised in Randolph County, Ala.—certainly has a lot to say on his upcoming EP, where he holds writing credit on all six tracks. Signs of a Good Time was produced by Dan Huff protégé Brandon Hood. Dugger will continue dropping additional singles leading up to the EP's spring release.
A lifelong NASCAR fan, Dugger has performed his original songs at nearly every major race track in the country. This past December, he performed at NASCAR Champion's Week in Nashville, where he also served as Grand Marshal for the Burnouts on Broadway event, as well as co-hosted and judged the event on NBC Sports. He also previewed new music at a VIP reception held at Curb Records' headquarters on Music Row, in partnership with his record label and Curb Racing. The event featured several racing luminaries in attendance, including former drivers Dale Earnhardt, Jr. and Michael Waltrip, as well as current competitors Ryan Blaney and Grant Enfinger. Read Sounds Like Nashville's event recap HERE.
Dugger's new music combines his love for racing, traditional Country music and his rural upbringing rooted in faith and family. Pre-save Signs of a Good Time HERE. Preorder the EP and preview "You're Gonna Love Me" HERE. For more information, follow Dugger on Instagram @tim_dugger or on Facebook @OfficialTimDugger.
About Tim Dugger:
Country music singer/songwriter and Alabama-native Tim Dugger grew up on NASCAR racing, Gospel singing and classic Country music. He developed a genuine love for songwriting and storytelling during summers spent at his local music store jamming with bluegrass pickers. After being introduced to former NASCAR driver and team owner Richard Childress, Dugger was off to the races, playing his original songs at nearly every major track in America. Along the way, he cultivated an unapologetic artistic identity, rooted in the music of his childhood idols like Merle Haggard, Vern Gosdin, Hank Williams and Alan Jackson. Now signed to Curb Records, Dugger's new six-song EP, Signs of a Good Time, is produced by Dan Huff protégé Brandon Hood and scheduled for release Apr. 24, 2020. His latest song, "You're Gonna Love Me," is available now.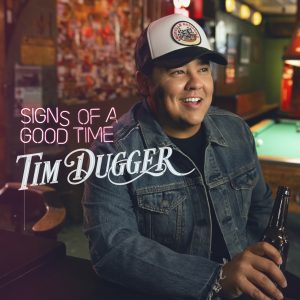 1. Signs Of A Good Time
2. You Can't Leave Me Now
3. Home Away From Home
4. You're Gonna Love Me
5. Circles
6. Cold Beer Night