Sacred Version of Music Video Premieres on Apple Music
 Curb Records recording artist, five-time GMA Female Vocalist of the Year and eight-time GRAMMY® nominee Natalie Grant unveils her powerful new single, "My Weapon" today. The song is available across all DSPs and Christian radio, while a video of the sacred version, recorded live in London with the symphony, premieres today on Apple Music. The powerful visual video is already charting at No. 2 behind BTS on the iTunes Top Music Videos chart (all genres). Listen to "My Weapon" HERE.
Voicing immediate critical acclaim, New Release Today shared, "Every so often, a powerful lyric comes through and provides peace and calm in the midst of a world that's spinning out of control. From the first notes of Natalie Grant's newest single, 'My Weapon,' that peace is found, clearing the way for God to speak and for the listener to find comfort and safety in His arms."
Written by Grant, Andrew Bergthold, Benji Cowart, Ryan Ellis and Jonathan Jay – and produced by Grant's GRAMMY® Award-winning husband Bernie Herms – "My Weapon" serves as the lead single from her highly anticipated tenth studio album slated for release later this year.
"Whatever current difficulty or hardship we find ourselves in, there is one thing that is a source of comfort and strength above all else, and it is also our greatest weapon—the presence of God. And His presence is always with us," Grant explains of the message behind her new song. "Joshua 1:9 reminds us to 'not be afraid; do not be discouraged, for the Lord your God will be with you wherever you go.' So no matter the fight, we never fight alone. May this song remind you that God is with you and God is for you, fighting your battles. He is your victory."
Set against a lush orchestral backdrop, recorded with the symphony in London, Grant's soaring vocals bring the song's anthemic lyrics to life: "Your presence is my greatest weapon / Pushing back the darkness / Breaking every chain / My worship opens up the heavens / Crushing every stronghold / When I speak Your name / Your presence is my weapon."
Grant kicked off the year alongside her friend, Charlotte Gambill, with four Dare to Be women's events in January. This past weekend, she performed at New York's iconic Carnegie Hall as part of the Gospel Music Association's 50th anniversary celebration of the Dove Awards. New 2020 tour dates will be announced in the coming months. With more new music set to release in spring 2020, Natalie will release her full studio album this summer. For current info and all tour dates, visit www.nataliegrant.com.
About Natalie Grant:
 Eight-time GRAMMY® nominee Natalie Grant has remained one of Christian music's top-selling artists since her 2005 breakout RIAA Gold-certified album, Awaken.  Known for powerful vocals, heart-gripping lyrics and passionate performances, Grant has since gone on to amass more than 500 million streams and has garnered several #1 singles at radio.  Having been named Female Vocalist of the Year by the Gospel Music Association five times, Grant has propelled multiple records to the #1 spot on the Billboard album charts, including her most recent, Be One.  Along with her friend Charlotte Gambill, she launched Dare to Be, a series of special one-night events for women. In addition, she's the author of multiple books, including the Glimmer Girls series for tween girls. A fierce advocate for social justice, she's also the co-founder of Hope for Justice, an international non-profit organization with 32 offices spanning 10 countries, that works to end modern-day slavery. The singer and her husband, GRAMMY® Award-winning songwriter/producer Bernie Herms, live in Nashville with their three daughters. Grant's powerful new single, "My Weapon," released February 21, 2020.
About Curb | Word Entertainment:
In 2016, Curb Records acquired Word Entertainment, combining two of the music industry's most respected brands, and more than a century of collective experience. Today, Curb and Word are two of the world's leading independent music companies. Owned and operated by Mike Curb, the Curb | Word family includes the labels Curb, Word, Squint, Fervent, Sidewalk, and IVAV, as well as Curb Publishing, Word Publishing, 25 Live, Curb Films, Word Films, Word Entertainment, and Curb Sports, representing top artists and entertainers in Country, Christian, Pop, Rock, and Hip-Hop. \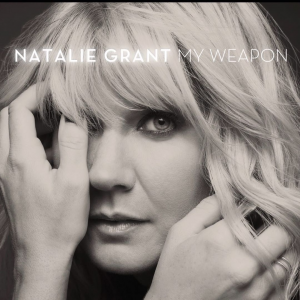 My Weapon (Single)
Track Listing
1. My Weapon