It's been a couple of weeks since Melanie Pfirrman released the steamy music video for "Suda," her debut single. Featuring GRAMMY-winning rapper PITBULL and DJ/producer IAMCHINO, "Suda" has become a worldwide hit across multiple platforms, earning an audience that's just as varied as the song's own mix of bilingual lyrics, pop hooks, hip-hop swagger, and Latin rhythms.
A song with a global audience, "Suda" has experienced immediate demand on several continents, earning a spot in Chile's Top 20 Pop radio chart, as well as a commanding and very strong streaming presence in Mexico. Also in Europe, from the UK to Germany, the song has been well received, including the latest four remixes by Pink Panda (which earned 72% support on the UK Pop Club chart), Wideboys, Dave Audé and Kingdom 93 — that have amassed nearly 50,000 total streams in less than two weeks.
Within a couple of weeks, "Suda" has earned more than 1.5 million streams (and still growing quickly), appeared on high-profile playlists on Spotify, such as Zumba Beats and Dance Pop, while on Apple Music the track has been added to the Pure Party, LA Fitness and Latin Nation playlists, and it has also landed a spot with Pandora's Pop and Hip Hop Power Workout station, who has over 24 million listeners. Meanwhile, the song's hit music video has now earned over 1.4 million views on YouTube.
"Suda" — whose song title is Spanish for "sweat" — is more than a hit song; it's also a rallying cry, encouraging those that are staying home to remain physically active. The #SUDAchallenge has even become a trending movement on TikTok, with countless users responding to Melanie's call to workout, sweat, and maintain their health during this unprecedented time. "Suda" has earned over 5.5 million views on TikTok alone, while organic user videos have surpassed 1,000 and continue to grow.
"I can't tell you just how ecstatic I am that 'Suda' is being received so well — not just in the US, but abroad too!" says Melanie. "It's so special seeing something you created, or helped create, bloom right in front of your eyes. I'm beyond grateful and can't wait to hopefully see its continued success."
Signed to Sidewalk Records, a division of Curb Records, Melanie Pfirrman will release additional Latin-infused singles throughout 2020, building a bridge between the pop hooks of her earlier work, the bilingual influence of her mother — a singer who often performed with mariachi groups, exposing her daughter to cross-cultural influences at a young age — and her own future as a boundary-breaking artist.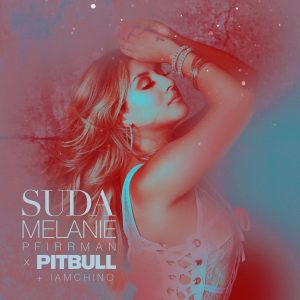 Track Listing
1. Suda (featuring Pitbull)
About Melanie Pfirrman:
Pop vocalist Melanie Pfirrman first caught the attention of Sidewalk Records, a division of Curb Records, in 2016. Her major label debut EP, I Don't Wanna Love, landed a Top 5 Radio Disney hit with "Go Steady" and earned the California-native more than 1 million career streams to date. With powerful vocal chops in the vein of Demi Lovato and Ariana Grande, Melanie Pfirrman is paving her own path with a voice that leaves audiences speechless and an energy and confidence that's contagious. Her first Latin single, "Suda" (feat. Pitbull and IAMCHINO), is now available.
About Curb Records:
In 2018, Curb Records joined forces with Word Entertainment to form Curb | Word Entertainment, combining two of the music industry's most respected brands and more than a century of collective experience. Today, Curb | Word Entertainment is one of the world's leading independent music companies.  Owned and operated by Mike Curb, the company includes label imprints Curb Records, Word Records, Squint Entertainment, Fervent, Sidewalk Records and IVAV representing top artists in Country, Christian, Pop, Rock and Hip-hop music, Curb | Word Music Publishing, 25 Live, Curb Films, Word Films, Word Entertainment and Curb Sports.
Watch the music video for "Suda," which finds Melanie and company taking over Pitbull's nightclub in Miami.