Curb Records recording artist and Alabama-native Tim Dugger knows how to have a good time, and he officially serves up the soundtrack to that vibe with the release of his latest EP, Signs Of A Good Time, available today.
"I'm excited to have new music coming out, starting with this EP," Dugger shares. "I'm looking forward to letting people not only get to know my music, but who I am and what I'm about through song."
The six-song collection, produced by Dan Huff protégé Brandon Hood, does just that—giving fans a glimpse into Dugger's love for racing, traditional Country music and his rural upbringing rooted in faith and family. Today's release of Signs Of A Good Time delivers three new songs in addition to the recently released tracks, including heart-on-your-sleeve confessional "You're Gonna Love Me," the tongue-in-cheek "Circles" and dive bar tune "Home Away From Home."
Along with the release of Signs Of A Good Time, Dugger has also signed with WME for exclusive worldwide representation including music, television, branding, and endorsements. Dugger is represented by a team of agents at WME.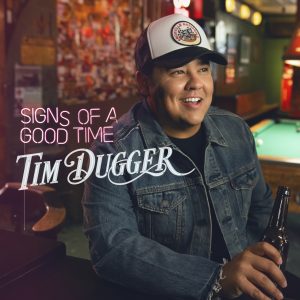 Signs Of A Good Time
Track Listing
1. Signs Of A Good Time
2. You Can't Leave Me Now
3. Circles
4. You're Gonna Love Me
5. Home Away From Home
6. Cold Beer Night
Giving fans a taste of new music, last month the avid NASCAR enthusiast participated in the first ever virtual pre-race concert prior to the Dixie Vodka 150 as part of the opening race of the inaugural eNASCAR iRacing Pro Invitational Series. Dugger's performance was streamed live on NASCAR's official Twitter and Facebook pages. In addition, last week the singer/songwriter took over Sounds Like Nashville's Instagram Live for an exclusive set, previewing songs from his new EP.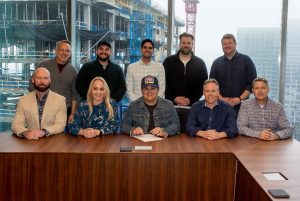 About Tim Dugger:
Country music singer/songwriter and Alabama-native Tim Dugger grew up on NASCAR racing, Gospel singing and classic Country music. He developed a genuine love for songwriting and storytelling during summers spent at his local music store jamming with bluegrass pickers. After being introduced to former NASCAR driver and team owner Richard Childress, Dugger was off to the races, playing his original songs at nearly every major track in America. Along the way, he cultivated an unapologetic artistic identity, rooted in the music of his childhood idols like Merle Haggard, Vern Gosdin, Hank Williams and Alan Jackson. Signed to Curb Records, Dugger's new six-song EP, Signs Of A Good Time, is currently available.
About Curb Records:
Celebrating 56 years in business, Curb Records is one of the world's leading independent music companies. Owned and operated by Mike Curb since 1964, Curb Records has achieved 435 number one records, over 1,500 Top Ten records and charted over 4,500 total records. With over a half century in operation, Curb Records has been influential in the careers of some of the biggest names in music, including: Tim McGraw, Hank Williams, Jr., Rodney Atkins, Lee Brice, LeAnn Rimes, The Judds, Dylan Scott, Sawyer Brown, Wynonna, Lyle Lovett, Jo Dee Messina, Hal Ketchum and Desert Rose Band, among many others. Today's roster includes some of the top names across multiple genres of music.