Curb | Word Entertainment's Sidewalk Prophets will reschedule the release of their next album, The Things That Got Us Here, originally set to release on May 22, 2020. Due to COVID-19 concerns, the album is now set to release on July 3, 2020. Fans can hear released tracks "Smile," "The Comment Section," "Chosen," "Real To Me," and "Don't Sweat It" while they await the album's release.
"Due to the extenuating circumstances brought on to all of us by this pandemic, we, as a team, decided we needed to postpone the release of our new record," shares Sidewalk Prophets lead singer Dave Frey. "This postponement is in an effort to be sensitive to the world around us and to bring you our absolute best as we release The Things That Got Us Here – an album that we are extremely excited to share with you."
As previously announced, the band rescheduled their sold-out headlining debut at Nashville's historic Ryman Auditorium originally scheduled for March 22, 2020. The "Great Big Family Reunion" was rescheduled for July 5, 2020. All tickets will be honored at the new date. If fans previously registered for the event via Ticketmaster's Verified Fan platform and can no longer attend, they should log in to their Ticketmaster account to return/cancel their complimentary ticket so that any unused tickets can be claimed by other fans. More information is available at www.sidewalkprophets.com.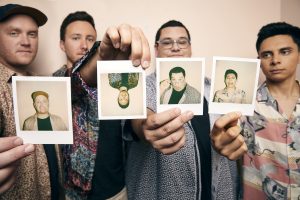 About Sidewalk Prophets:
With a career spanning three major label studio releases—These Simple Truths (2009), Live Like That (2012) and Something Different (2015), plus 2013's celebrated holiday offering, Merry Christmas To You—and multiple hits, including Gold-certified "The Words I Would Say," "You Love Me Anyway" and "Live Like That," among others, Sidewalk Prophets remains a mainstay at Christian radio. The Dove Award-winning band has sold more than 740,000 albums and 1.8 million digital tracks. In addition, the group has garnered five No. 1 songs, nine Top 5 radio singles and more than 43 million views on YouTube. The band originally formed at Indiana's Anderson University, and since signing with Curb | Word Entertainment, they've been nominated for a Billboard Music Award, multiple K-LOVE Fan Awards and four Dove Awards, taking home the New Artist of the Year Dove in 2010. Over the course of their career, they've played for more than 2.5 million fans, and counting. Known for spending more days on the road than anywhere else, Sidewalk Prophets' most recent tours have morphed into interactive experiences for their fans, whom they affectionately call "The Great Big Family." The band is set to host the first free public concert in Ryman history on July 5, 2020, celebrating new music from their highly-anticipated album, The Things That Got Us Here, releasing July 3, 2020.
About Curb | Word Entertainment:
In 2016, Curb Records acquired Word Entertainment, combining two of the music industry's most respected brands, and more than a century of collective experience. Today, Curb and Word are two of the world's leading independent music companies. Owned and operated by Mike Curb, the Curb | Word family includes the labels Curb, Word, Squint, Fervent, Sidewalk, and IVAV, as well as Curb Publishing, Word Publishing, 25 Live, Curb Films, Word Films, Word Entertainment, and Curb Sports, representing top artists and entertainers in Country, Christian, Pop, Rock, and Hip-Hop.