Curb | Word Entertainment artist Big Daddy Weave's latest radio single "I Know" hits #1 on both the Billboard Christian Airplay and Mediabase Christian Audience charts today, 4/20/20. The song is the group's sixth #1 single on the Billboard Christian Airplay chart and their ninth career #1 single.
"This song came during a time when my family was going through a lot. For all the 'whys' we could ask, in the end, Jesus is greater than all of it," shares front man Mike Weaver. "We stand on what we know. It's been such a blessing seeing other people hear that through this song and stand in that message."
The group is also releasing their "Together While Apart" music video for "I Know" today, 4/20/20. The video is a compilation of each band member performing "I Know" from their respective homes during this time of isolation. Watch the moving video HERE.
In September 2019, the band released its ninth studio album, When The Light Comes, featuring the chart-topping radio singles "I Know" and "Alive." In addition, front man Mike Weaver debuted a new book, I Am Redeemed, while the band partnered with Trinity Broadcasting Network (TBN) to launch the eight-episode reality series When The Light Comes With Big Daddy Weave. Fans can watch the full season on www.TBN.org or the TBN app.
 About Big Daddy Weave
Big Daddy Weave is one of Christian music's most beloved artists. A mainstay at radio, the band has achieved multiple No. 1 singles, including "Alive," "Love Come To Life," "Redeemed," "The Only Name (Yours Will Be)," "Overwhelmed" and "My Story." RIAA Platinum-certified "Redeemed" became an anthem of unprecedented impact when it spent 11 weeks at No. 1, was dubbed "Song of the Year" at the first annual K-LOVE Fan Awards, and earned Dove Award and Billboard Music Award nominations. Their follow-up hit, "The Lion and The Lamb," has become one of the genre's most-streamed songs. The band's song catalog has an astounding 362 million career on-demand streams.
Big Daddy Weave members are Mike Weaver (lead vocals, guitar), Jay Weaver (bass, vocals), Jeremy Redmon (guitar, vocals), Joe Shirk (saxophone, keys, vocals) and Brian Beihl (drums). The band has released nine full-length projects. With their latest album, When The Light Comes, released September 13, 2019. They have amassed more than one million units in album sales and have received numerous honors, including a Dove Award, ASCAP and BMI Awards, and the prestigious Rich Mullins Artist Impact Award, among others.
About Curb | Word Entertainment
In 2016, Curb Records acquired Word Entertainment, combining two of the music industry's most respected brands, and more than a century of collective experience. Today, Curb and Word are two of the world's leading independent music companies. Owned and operated by Mike Curb, the Curb | Word family includes the labels Curb, Word, Squint, Fervent, Sidewalk, and IVAV, as well as Curb Publishing, Word Publishing, 25 Live, Curb Films, Word Films, Word Entertainment, and Curb Sports, representing top artists and entertainers in Country, Christian, Pop, Rock, and Hip-Hop.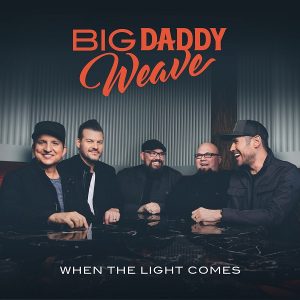 When The Light Comes
Track Listing
1. Alive
2. This Is What We Live For
3. Turn On The Light
4. I Know
5. What I've Got
6. The Name Of Jesus
7. I Want To Tell The World
8. Pursuit
9. Your Love Changes Everything
10. Walking In The Light Of Your Love
11. All Things New
12. Fly