New Track, "Praise You in This Storm," Now Available
Curb | Word Entertainment recording artist Natalie Grant will release her tenth studio album, No Stranger, on August 28, 2020, with the album's pre-order/pre-save beginning today. Additionally, a new track from the upcoming album, "Praise You in This Storm," releases simultaneously. To pre-order and/or pre-save the album, and/or listen to "Praise You in This Storm," click HERE.
"Praise You in This Storm" was originally recorded by Casting Crowns in 2005 and it quickly became one of the band's most renowned hits. Natalie said, "When my husband co-wrote this song with Mark Hall of Casting Crowns almost 15 years ago, I had no idea how it would comfort me while I was in the middle of my own storm of cancer in 2017. Because of how personal it became to me, I decided to record it. We recorded it with the London Symphony Orchestra last summer, but I had no idea then that it would be such a perfect message for such a time as this."
When asked about the new version, Mark Hall said, "Natalie captured the heart of this song so beautifully. Raw, broken, and honest. Just the way our worship should be."
In celebration of the album pre-order launch, Natalie performed her version of the newly recorded song in a video posted on social media last night, Thursday, June 11, 2020. Fans can check it out on her Facebook page.
Along with husband, GRAMMY® Award-winning songwriter and producer, Bernie Herms, Grant performed an online concert event live from Nashville's Historic Ryman Auditorium on Tuesday, May 26, 2020. The special event, benefitting Hope for Justice, an international non-profit organization co-founded by Grant that works to end modern-day slavery, raised over $170,000, was streamed by over half a million people, and was the culmination of Natalie and Bernie's "A Song A Day Keeps The Crazies Away" series, which has garnered over 33 million streams since March 17.
Additionally, Grant, along with her longtime friend, author and speaker Charlotte Gambill, has released the new "Dare To Be" podcast, which brings Grant and Gambill's popular "Dare To Be" women's events to life in a fresh format. The podcast is in partnership with AccessMore, an all-new online network for faith-based podcasts from Christian leaders like Christine Caine, Levi Lusko and others, that launched last month from K-LOVE/Air1 parent company Educational Media Foundation (EMF).  The "Dare To Be" podcast's first episode became AccessMore's most listened to episode of the platform's launch. Fans can subscribe to the "Dare To Be" podcast at http://www.daretobe.com.
About Natalie Grant:
Eight-time GRAMMY® nominee Natalie Grant has remained one of Christian music's top-selling artists since her 2005 breakout RIAA Gold-certified album, Awaken. Having been named Female Vocalist of the Year by the Gospel Music Association five times, Grant has propelled multiple singles and records to the #1 spot on the Billboard album charts, including her most recent album, Be One. Along with her friend Charlotte Gambill, she launched Dare to Be, a series of special one-night events for women. In addition, she's the author of multiple books, including the Glimmer Girls series for tween girls. A fierce advocate for social justice, she's also the co-founder of Hope for Justice, an international non-profit organization with 32 offices spanning 10 countries that works to end modern-day slavery. The singer and her husband, GRAMMY® Award-winning songwriter/producer Bernie Herms, live in Nashville with their three daughters. Grant's powerful current single, "My Weapon," serves as the first taste of new music from the singer's upcoming studio record, No Stranger, arriving August 28, 2020.
About Curb | Word Entertainment:

In 2016, Curb Records acquired Word Entertainment, combining two of the music industry's most respected brands, and more than a century of collective experience. Today, Curb and Word are two of the world's leading independent music companies. Owned and operated by Mike Curb, the Curb | Word family includes the labels Curb, Word, Squint, Fervent, Sidewalk, and IVAV, as well as Curb Publishing, Word Publishing, 25 Live, Curb Films, Word Films, Word Entertainment, and Curb Sports, representing top artists and entertainers in Country, Christian, Pop, Rock, and Hip-Hop.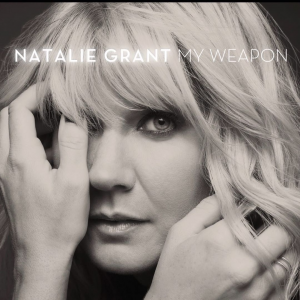 My Weapon (Single)
Track Listing
1. My Weapon