Remix of Malcolm's popular song blends multi-cultural influences with hip-hop swagger
After setting the hip-hop community ablaze with the Latin-flavored "Fuego," Steven Malcolm is reigniting the fire all over again. This time, he's joined by GRAMMY®-winning reggae/dancehall superstar Shaggy for the larger-than-life "Fuego Remix," unveiling a new side of the hit single along the way. Listen to the song HERE.
Together, Steven Malcolm and Shaggy turn "Fuego Remix" into a summertime anthem that crosses borders and blends genres. American hip-hop, Latin guitars, and Caribbean rhythms collide, with the two artists both taking turns at the microphone. The result is a collaboration that's every bit as cinematic as the accompanying music video, which finds Malcolm and Shaggy making their way through a cityscape at night, pursued by a crime boss and her pack of henchmen. Directed by Tyler Dunning Evans (whose work includes Malcolm's "Summertime" and the Steve Aoki/Backstreet Boys duet "Let It Be Me"), the video premiered on UK Music News ( https://www.music-news.com/) on Thursday, July 30th. The song itself will be released by IVAV (a division of Curb | Word Entertainment) on Friday, July 31st, the same day the video moves to Revolt TV (https://www.revolt.tv).
"Shaggy brought that Jamaican patois to 'Fuego,' and added a different vibe to it," says Malcolm, whose own Jamaican roots — the product of a father who was born in Montego Bay — have inspired albums like The Second City. "The song already has Latin guitars in it, so he came in there and added his Caribbean spice. This song is about to be legendary! It's about to be fuego."
Produced by and featuring Social House's Anderson "Scootie" Michael (frequent collaborator of Ariana Grande including her worldwide hits "Thank You, Next", "7 Rings" and "Boyfriend"), the "Fuego Remix" single marks the latest project from Steven Malcolm, whose unique brand of hip-hop has resulted in multiple award nominations, more than 41 million on-demand streams, and an acclaimed live show, with the rapper performing for more than 1 million people to date. It also finds him breathing new life into a song that has already racked up more than 2 million Spotify streams and 1.2 million YouTube views during its original run.
"Fuego Remix" is the sound of a fire reborn, with two multi-cultural hip-hop trailblazers fanning the flames.
About Steven Malcolm:
A multi-cultural hip-hop artist, Steven Malcolm's songs are grounded in fiercely-delivered rhymes and a willingness to blur the lines between genres. It's an approach that's earned the songwriter five award nominations, more than 41+ million on-demand streams, and an audience that's just as diverse as his own influences, bridging the gap between the worlds of commercial rap, pop, and reggae. He released an independent album, Monster's Ink, and signed a deal with Word Entertainment, becoming the first rap artist on the label's roster. If Monster's Ink turned Steven into hip-hop's newest up-and-comer, then Steven Malcolm — his self-titled, major-label debut — established him as a commercial juggernaut, with songs like "Hot Boy" and the pop-rap tune "Party in the Hills" becoming hits. He continued crystallizing his sound with 2019"s The Second City, a hard-hitting, lyrically-driven record that focused on messages of hope, redemption, and ambition. "Fuego" highlighted Steven's Jamaican roots and reggae influences (both of which would be showcased again in 2020, when he teamed up with Shaggy for the larger-than-life "Fuego Remix"). From his cinematic music videos to his diverse, hard-driving music, Steven Malcolm continues making art that breaks boundaries and inspires listeners to become better versions of themselves.
About Shaggy:
When it comes to making dancehall reggae hits that rock the world and stand the test of time, nobody does it better than Shaggy.
Born Orville Richard Burrell and raised in Kingston, Jamaica, Shaggy got his start as a club DJ in New York City's burgeoning dancehall scene soon after moving to Brooklyn in his teens. Not long after serving four years in the U.S. Marines (including two tours of duty in the Middle East as part of Operation Desert Storm), he inked his first record deal and quickly scored a global crossover smash with "Oh Carolina."
The two-time GRAMMY® Award-winner & only diamond-selling dancehall/reggae artist in music history, Shaggy, managed by the Cherrytree Music Company, has sold more than 40 million album units to date, in addition to landing eight singles on the Billboard Hot 100 and seven albums on the Billboard 200 (including four in the top 40). Following his collaborative album with Sting, 44/876 (winner of Best Reggae Album at the 61st Annual GRAMMY® Awards),  his 12th studio album Wah Gwaan?!, a 2019 release amassed over four million streams during its first week on Spotify alone and spent a chunk of that year in the Top 10 of the Apple iTunes Reggae Chart.
To celebrate the 20th anniversary of his diamond-selling album, Hot Shot, a brand-new album entitled Hot Shot 2020, featuring updated versions of the biggest hits and most beloved fan favorites across Shaggy's catalog, along with a number of never-before-heard tracks, was recently released.
For Hot Shot 2020, Shaggy revisits his classic hits from "It Wasn't Me," "Boombastic," to "Oh Carolina" and "Angel" (ft. Sting) in addition to five unreleased tracks, including the chart-topping, viral sensation, "Banana" with fellow Jamaican artist, Conkarah which has amassed 30 million Tik Tok videos and 20 billion video views.
Not only a multi-award-winning songwriter and hitmaker, Shaggy has long used his platform to strengthen his community and homeland, with his Shaggy & Friends benefit concerts raising millions for the Bustamante Children's Hospital (the Caribbean's only English-speaking children's hospital, located in Kingston).
Official website: http://shaggyonline.com/
Facebook: @Shaggy
Instagram: @direalshaggy
About Curb Records:
In 2018, Curb Records joined forces with Word Entertainment to form Curb | Word Entertainment, combining two of the music industry's most respected brands and more than a century of collective experience. Today, Curb | Word Entertainment is one of the world's leading independent music companies.  Owned and operated by Mike Curb, the company includes label imprints Curb Records, Word Records, Squint Entertainment, Fervent, Sidewalk Records, MCC and IVAV representing top artists in Country, Christian, Pop, Rock and Hip-hop music, Curb | Word Music Publishing, 25 Live, Curb Films, Word Films, Word Entertainment and Curb Sports.  For more information, visit www.curb.com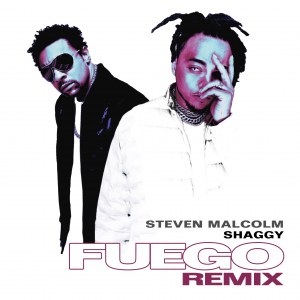 Fuego Remix (feat. Shaggy) (Single)
Track Listing
1. Fuego Remix (feat. Shaggy)
For more information on Steven Malcolm: