After Making People Sweat With her International Hit Single"SUDA" feat PITBULL + IAMCHINO And Reaching the Top 10 in Mexico While Partnering Up with Fanny Lu and Paty Cantu In The Girl Power song "EN MIS TACONES"
Sidewalk Records artist Melanie Pfirrman maintains momentum from her hit single "Suda" with the release of her new single "Rosé". 
This urban cumbia that alludes to the famous French wine invites us to spend pleasant moments with that special someone who can be as intoxicating as "Rosé" itself. Written by Melanie, Andreas Moss, Zashanell Guido and Alfonso Ordoñez, the multiple Latin GRAMMY®-winner who also serves as producer, "Rosé" warms us up with its bilingual flow: "smooth operator got me feelin' delicioso…this is just for fun, it's a good venenoso."
"Rosé" is the perfect song for dancing, flirting and cuddling up with someone in the fall season.
This new material by Melanie is sure to delight her followers who have been eagerly requesting more songs from her.
Her hit song "Suda" (Sweat) with Pitbull and IAMCHINO, released in January, continues making waves around the world.
Recently, "Suda" was synced on the CBS series Love Island and World Of Dance, the NBC series hosted by Jennifer López. Its music video is approaching 5 million views on YouTube, and has surpassed 2 million streams, while climbing airplay charts in Mexico, Germany, the UK, and Chile.
Furthermore, the trending #SudaChallenge has inspired users of the Generation Z-focused social network TikTok to dance along to this energetic and motivating song.
Of Mexican descent on her mother's side, Melanie Pfirrman is also expanding her presence, thanks to her appearance on "En Mis Tacones" (In My Heels), the hit single by the Colombian star Fanny Lu which also features the Mexican singer Paty Cantú. Its innovative and empowering music video, which debuted in July, has surpassed 3 million views, and the single is now Top 10 on Mexico's airplay charts.
Raise your glass to "Rosé," the beguiling and rhythmic new song by Melanie Pfirrman!
About Melanie Pfirrman:
Melanie Pfirrman's globe-trotting pop music blurs the boundaries between genres and countries, fusing Latin rhythms, dance grooves, and R&B swagger into a sound that's both bold and bilingual. Raised on a multicultural mix of Spanish and American music, her diverse music earned her a record deal with Sidewalk Records in 2016, with the debut EP I Don't Wanna Love arriving in 2018. The EP was a hit, racking up nearly 2 million digital streams and producing the Top 10 Radio Disney hit "Go Steady." Even so, it was 2020's "Suda" — Melanie's steamy collaboration with PITBULL and IAMCHINO — that truly launched her career, showcasing the Latin influences, melodic hooks, and larger-than-life charisma of pop music's newest jet-setter. Working with a rotating group of songwriters and producers, she spent the rest of 2020 in a creative whirlwind, building a catalog of songs that, like "Suda," mixed American and Latin influences into something new. She teamed up with singers Fanny Lu and Paty Cantú for "En Mis Tacones," a bilingual salute to female empowerment, and mixed Cumbia grooves with tropical melodies on "Rosé." While the world around her ground to a temporary halt, she remained as prolific as ever, exploring a unique sound that mixed the familiar with the fresh.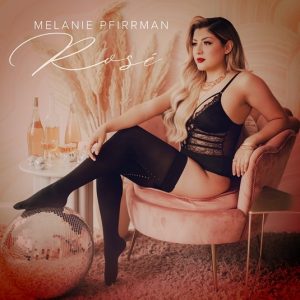 Listen to "Rosé" HERE.
Follow Melanie Pfirrman:
https://www.instagram.com/melaniepfirrman/
https://www.youtube.com/channel/UCGwxKtTMsrHkAKiRrC5X8wg
About Curb Records:
In 2018, Curb Records joined forces with Word Entertainment to form Curb | Word Entertainment, combining two of the music industry's most respected brands and more than a century of collective experience. Today, Curb | Word Entertainment is one of the world's leading independent music companies.  Owned and operated by Mike Curb, the company includes label imprints Curb Records, Word Records, Squint Entertainment, Fervent, Sidewalk Records and IVAV representing top artists in Country, Christian, Pop, Rock and Hip-hop music, Curb | Word Music Publishing, 25 Live, Curb Films, Word Films, Word Entertainment and Curb Sports.  For more information, visit www.curb.com