Curb Records is excited to announce the much-deserved GRAMMY® nomination of its June 2020 release of the Fisk Jubilee Singers'® album, Celebrating Fisk! (The 150th Anniversary Album) in the Best Roots Gospel Album category.
"I had many great experiences today, including the news of the Fisk Jubilee Singers'® GRAMMY® Nomination. This is VERY EXCITING!!!," shares Dr. Paul Kwami, Musical Director of the Fisk Jubilee Singers® and Album Co-Producer. "It is the result of hard and diligent work put together by many great minds. As the Fisk Jubilee Singers® prepare to celebrate their 150th anniversary in 2021, this nomination gives us much inspiration to celebrate the anniversary in a grand way. This GRAMMY® nomination is a great honor for the Fisk Jubilee Singers® and me, and for this I am very grateful to everyone for their tremendous contributions."
The album, which is more than 150 years in the making, is a collection of 12 songs that beautifully represents and communicates the powerful and vibrant history of Fisk University, Fisk Jubilee Singers®, and the city of Nashville. It features the group from the stage of Nashville's historic Ryman Auditorium, with guest appearances by Ruby Amanfu, Keb' Mo', Lee Ann Womack, The Fairfield Four, Rod McGaha, Derek Minor, Shannon Sanders, Rodney Atkins, Jimmy Hall and CeCe Winans.
"I am proud to be a part of this historic moment," shares Shannon Sanders, Album Co-Producer. "I am beyond excited for the Fisk Jubilee Singers®, Dr. Paul T. Kwami, and Fisk University. I am grateful to Mike Curb, the team at Curb Records and all of their affiliates for their incredible belief and support. This is a big day for Music City."
Mike Curb, Chairman of Curb Records, also shares, "We've worked for many years with the Fisk Jubilee Singers and we are very excited that they have such an important GRAMMY® nomination at this time."
For more information, visit fisk.edu.
Track-listing:
Wade In The Water
Blessed Assurance (feat. CeCe Winans)
I Believe (feat. Keb' Mo')
Everybody Ought To Treat A Stranger Right (feat. Lee Ann Womack)
Rock My Soul (feat. The Fairfield Four)
I Want Jesus To Walk With Me (feat. Ruby Amanfu)
When The Saints Go Marching In (feat. Rod McGaha)
'Way Over In Egypt Land
Glory / Stranger (feat. Derek Minor & Shannon Sanders)
Working On A Building (feat. Rodney Atkins)
My Lord Is So High
I Saw The Light (feat. Jimmy Hall)
Listen to the album HERE.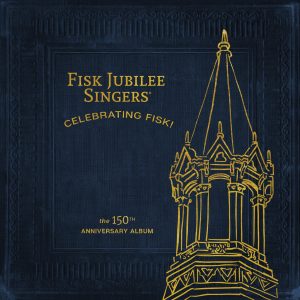 About Fisk University   
Founded in 1866, Fisk University is a private, liberal arts university located in Nashville, Tennessee. Consistently recognized for its brand of academic excellence, Fisk is ranked No. 6 on the Top 10 Historically Black Colleges and Universities (HBCU) in the 2019 U.S. News & World Report. Fisk also ranked No. 1 in the nation among HBCUs for social mobility and No. 3 in the nation for research expenditures among small liberal arts colleges. Fisk University is deeply committed to student leadership, success and service. Fisk excels at preparing our highly motivated student body for elite graduate schools and outstanding careers. From the classroom to the boardroom, a Fisk education gives students the tools to turn their passions into careers and prepares them to make a difference in the world. To learn more about Fisk University, please visit www.fisk.edu
 About Curb Records
Celebrating 56 years in business, Curb Records is one of the world's leading independent music companies. Owned and operated by Mike Curb since 1964, Curb Records has achieved 435 number one records, over 1,500 hundred Top Ten records and charted over 4,500 total records. With over a half century in operation, Curb Records has been influential in the careers of some of the biggest names in music, including: Tim McGraw, Hank Williams, Jr., Rodney Atkins, Lee Brice, LeAnn Rimes, The Judds, Dylan Scott, Sawyer Brown, Wynonna, Lyle Lovett, JoDee Messina, Hal Ketchum and Desert Rose Band, among many others. Today's roster includes some of the top names across multiple genres of music. For more information, visit www.curb.com.