Modern-day Spiritual is Emotional Rallying Cry for Hope and Change
Pop-soul Sidewalk Records recording artist Wyn Starks grew up in Minneapolis, Minn. where he sang his first solos in a local church. Years later, he draws upon those gospel roots for "Sparrow," an achingly emotional ballad written in the wake of George Floyd's death. Listen to the track HERE.
Backed by layers of church piano and ringing reverb, Starks delivers one of his strongest vocal performances to date, channeling not only the frustration of an African-American community haunted by decades of injustice but also the spiritual elation of a Sunday morning service. The song begins solemnly and soars toward its cathartic peak, culminating in a cascade of gospel acrobatics and soulful blue notes during the final chorus.
"We wanted to write from the perspective of an old Negro spiritual, where they talked about dreaming of a day where we'd all be free," says Wyn, who co-wrote "Sparrow" with producer Fred Williams (AKA Built By Titan). Although created in response to America's ongoing struggle with systematic racism, "Sparrow" emphasizes hope over anger, with Wyn crediting Martin Luther King Jr.'s final speech — the iconic "I've Been to the Mountaintop" — as one of the song's biggest inspirations.
"Sparrow" isn't a protest song, nor is it a hymn. Instead, it's something uniquely Starks: an amalgamation of soul, gospel, and pop sparkle, glued together by a showman who was born to sing. Like the bird that lends the song its title, "Sparrow" positively flies.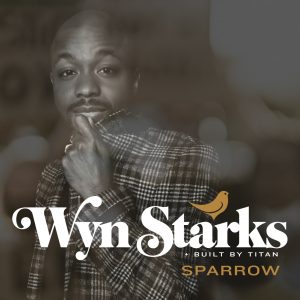 "Sparrow" is available HERE now.
About Wyn Starks
Wyn Starks builds a bridge between the old-school sounds that filled his childhood — from the soulful sweep of Motown classics to the bright sparkle of '80s hitmakers like Whitney Houston and Michael Jackson — and the grooves, hooks, and genre-bending bounce of contemporary radio. He creates a sound that celebrates not only the multi-octave range of his vocals, but also the power of his songwriting.
About Curb | Word Entertainment
In 2016, Curb Records acquired Word Entertainment, combining two of the music industry's most respected global brands, and more than a century of collective experience. Today, Curb and Word are two of the world's leading independent music companies. Owned and operated by Mike Curb, the Curb | Word family includes the labels Curb, Word, Squint, Fervent, Sidewalk, MCC and IVAV, as well as Curb Publishing, Word Publishing, 25 Live, Curb Films, Word Films, Word Entertainment, and Curb Sports, representing top artists and entertainers in Country, Christian, Pop, Rock, and Hip-Hop. For more information, visit www.curb.com.