New Five-Song Collection Honors Late Parents
First Single, "Soy," Drops Today
Nashville, Tenn. (January 22, 2021) — Curb | Word Entertainment powerhouse vocalist and Premios Arpa award recipient Blanca is poised to unveil Renovada, her first set of all-original Spanish music, April 2, 2021, with the pre-order and lead track, "Soy," available today. Listen to "Soy" and pre-order the five-song EP HERE.
Renovada, which means "renewed," pays tribute to Blanca's late parents, both of whom she previously lost to cancer. The new project honors her parents' legacy and her Puerto Rican heritage. "My Spanish culture and deep Latina roots play a huge part in this," she explains. "My parents always desired for me to embrace this part of me and create music for my people and my family. So here I am, finally doing just that. They aren't here to see it happen, but I'm hoping through the music and the songs, I can keep their legacy alive."
Historically, Blanca has naturally translated her lyrics from English to Spanish, but for Renovada, she intentionally crafted every song from the ground up in her native tongue. A reflection of her recent journey toward self-discovery, which she chronicled in her documentary, Pedazos ("Pieces"), last fall, her new Spanish-language EP also includes guest features from Dove Award winner Christine D'Clario, Genio, Blanca's cousin and a respected writer in the Latin space, and GAWVI, who produced the majority of the EP.
Lead song, "Soy," translated "I Am," drops today, giving fans a taste of the forthcoming collection. The track—a collaboration with D'Clario—centers around the theme of identity, written as Blanca was personally exploring who she was as a woman of deep faith and Puerto Rican descent. Listen to "Soy" HERE.
Additional information about Renovada will be revealed in the coming months. In the meantime, listen to "Soy," pre-save, pre-add, or pre-order the EP HERE.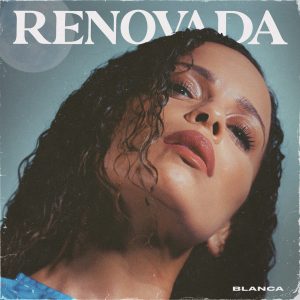 Renovada Track Listing:
"Papi Song (feat. Genio)"
"Zone (feat. GAWVI)"
"Un Salmo"
"Soy (feat. Christine D'Clario)"
"Amor De Primera (feat. Lead and Samuel ASH)"
For more, visit www.officialblanca.com.
About Blanca:
Powerhouse pop vocalist Blanca is a New York-native of Puerto Rican descent. Following a successful, Dove Award-winning run with Group 1 Crew, she ventured on her own to become a solo artist. The Premios Arpa award recipient's self-titled, debut solo album garnered two No. 1 radio singles, "Who I Am" and "Not Backing Down" (feat. Tedashii), the latter of which was featured on ESPN. Shattered, Blanca's second album and a project that is very personal to her, added three back-to-back No. 1 radio singles ("Real Love," "What If" and "Remind Me") to her story, along with her 46.8 million on-demand streams and more than 25.6 million views on YouTube. Renovada, Blanca's upcoming EP, and her first project featuring all original music in Spanish, is set to release on April 2, 2021. She received her first-ever Tecla Award nomination in October of 2019, in the category Best Musician Creating Social Content. For more information, visit www.officialblanca.com
About Curb | Word Entertainment
In 2016, Curb Records acquired Word Entertainment, combining two of the music industry's most respected global brands, and more than a century of collective experience. Today, Curb and Word are two of the world's leading independent music companies. Owned and operated by Mike Curb, the Curb | Word family includes the labels Curb, Word, Squint, Fervent, Sidewalk, MCC and IVAV, as well as Curb Publishing, Word Publishing, 25 Live, Curb Films, Word Films, Word Entertainment, and Curb Sports, representing top artists and entertainers in Country, Christian, Pop, Rock, and Hip-Hop. For more information, visit www.curb.com.