Band of Brothers Channels the Anxiety of the Modern Age into Uplifting Anthem About Reuniting with Loved Ones
 Nashville, TN (January 22, 2021) —Three years after releasing the critically-acclaimed debut album Memento Mori, Sidewalk Records recording artist Saint Nomad continues fusing organic rock & roll with electronic alt-pop on the band's newest single, "How Much Longer." Listen to the track HERE.
A cinematic pop/rock anthem about anticipation, hope, and the thrill of reuniting with long-lost loved ones, "How Much Longer" transforms the urgency of the COVID-19 era into something positive and uplifting. The song was written and produced by siblings Ruslan, Nikita, and Yan Odnoralov, drawing upon the chemistry generated by years of touring, studio work, and brotherly collaboration. The result is a stirring mix of vocal hooks, thickly-layered harmonies, and cascading guitar chords — a song fit for cathedrals, coliseums, and clubs.
Nikita, Ruslan, and Yan Odnoralov have been nomads for most of their lives, emigrating from their native Russia to Colorado as young political refugees in 1996. Feeling torn between two cultures, they learned to turn the very things that made them different into unique songs about inclusion, tolerance, and belonging. Since then, the brothers have also reached deep into their musical influences, creating a signature sound forged from European electronica, the Russian classical music their grandparents loved, and the pop/rock hits they heard on American radio as wide-eyed newcomers to the U.S.
Following the 2020 release of "Nothing to Lose," "How Much Longer" showcases Saint Nomad's unique blend of melody and movement, while also setting the scene for the band's full-length follow-up to Memento Mori. Twenty-five years after leaving their homeland and coming to America, these nomads have found a new home in their music.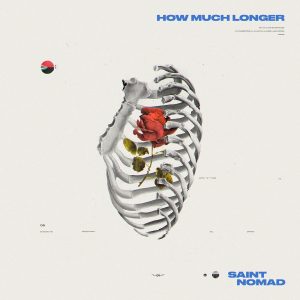 "How Much Longer" is now available HERE.
About Saint Nomad
 Saint Nomad is an alt-pop band of brothers who grew up on the road, performing more than 150 shows annually for a decade. Born in Russia and raised in America, siblings Nikita, Ruslan, and Yan Odnoralov introduced Saint Nomad's genre-bending mix of organic instruments, electronic soundscapes, and larger-than-life melodies with 2018's Memento Mori. The debut album was written and produced by the brothers themselves, featuring cinematic tracks like "Only Thing" (featured in advertisements for Netflix's 13 Reasons Why), "El Dorado," and "Rain in Paris." Since Memento Mori's release, Saint Nomad has further expanded its nuanced, textured sound with digital singles like "Nothing To Lose" and "Better Off," both of which were recorded in collaboration with 3x Grammy-winning producer Jacquire King (Kings of Leon, James Bay). While the brothers work on another full-length album, Saint Nomad's music continues to earn fans at home and abroad, racking up more than 1.72 million on-demand streams and 1 million views on YouTube.
About Curb | Word Entertainment
In 2016, Curb Records acquired Word Entertainment, combining two of the music industry's most respected global brands, and more than a century of collective experience. Today, Curb and Word are two of the world's leading independent music companies. Owned and operated by Mike Curb, the Curb | Word family includes the labels Curb, Word, Squint, Fervent, Sidewalk, MCC and IVAV, as well as Curb Publishing, Word Publishing, 25 Live, Curb Films, Word Films, Word Entertainment, and Curb Sports, representing top artists and entertainers in Country, Christian, Pop, Rock, and Hip-Hop. For more information, visit www.curb.com.