Eight-Night Livestream Event Begins Feb. 17
All Paid Tickets Include Live Devotional with Band
 Nashville, Tenn. (January 14, 2021) — Curb | Word Entertainment's Sidewalk Prophets is starting the New Year with a series of livestream events giving fans more reasons to smile. The band's new "Reasons For Joy" tour kicks off Feb. 17, 2021, bringing their live show directly to living rooms everywhere. Tickets are on sale now and available for purchase HERE.
The all-new livestream trek consists of eight entirely live shows broadcasting each night from Sidewalk Prophets' Great Big Family Studios in Nashville, Tenn. Tickets are pay-what-you-can, which includes a free option. All paid tickets grant fans entrance to a special devotional with front man Dave Frey. A VIP Pre-Show Party ticket is also available, which includes a Q&A with the band, games and more fun. In addition, fans can purchase a season pass for access to all eight shows, devotionals, and pre-show parties. Tickets are sold per household.
All dates on the "Reasons For Joy" tour will feature interactive moments, plenty of hits from Sidewalk Prophets' extensive catalog, and fresh favorites from the band's latest full-length album, The Things That Got Us Here, featuring new songs like "Smile" and "Chosen."
All show times are 8 p.m. Eastern, 7 p.m. Central, 6 p.m. Mountain and 5 p.m. Pacific.
In addition to launching a new livestream tour, in response to the violence at the Capitol last week, Sidewalk Prophets decided to release a live performance video of their new song, "The Comment Section," captured at the historic Ryman Auditorium last year. With a message of spreading kindness, the video has already received more than 42K views on YouTube in just five days. Watch the timely performance HERE.
For more information, visit www.sidewalkprophets.com.
"Reasons For Joy" Tour Dates:
 *All dates subject to change.
About Sidewalk Prophets:
With a career spanning three major label studio releases—These Simple Truths (2009), Live Like That (2012) and Something Different (2015), plus 2013's celebrated holiday offering, Merry Christmas To You—and multiple hits, including Gold-certified "The Words I Would Say," "You Love Me Anyway" and "Live Like That," among others, Sidewalk Prophets remains a mainstay at Christian radio. The Dove Award-winning band has amassed more than 204 million career on-demand streams and sold more than 875,000 in equivalent album sales and 1.86 million digital tracks. In addition, the group has garnered five No. 1 songs, nine Top 5 radio singles and more than 47 million views on YouTube. The band originally formed at Indiana's Anderson University, and since signing with Curb | Word Entertainment, they've been nominated for a Billboard Music Award, multiple K-LOVE Fan Awards and four Dove Awards, taking home the New Artist of the Year Dove in 2010. Over the course of their career, they've played for more than 2.5 million fans, and counting. Known for spending more days on the road than anywhere else, Sidewalk Prophets' most recent tours have morphed into interactive experiences for their fans, whom they affectionately call "The Great Big Family." The band hosted the first free public concert in Ryman history on July 9, 2020, previewing new music from their highly-anticipated album, The Things That Got Us Here, available now (July 3, 2020).
About Curb | Word Entertainment:
In 2016, Curb Records acquired Word Entertainment, combining two of the music industry's most respected brands, and more than a century of collective experience. Today, Curb and Word are two of the world's leading independent music companies. Owned and operated by Mike Curb, the Curb | Word family includes the labels Curb, Word, Squint, Fervent, Sidewalk, MCC and IVAV, as well as Curb Publishing, Word Publishing, 25 Live, Curb Films, Word Films, Word Entertainment, and Curb Sports, representing top artists and entertainers in Country, Christian, Pop, Rock, and Hip-Hop. For more information, visit www.curb.com.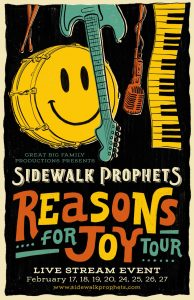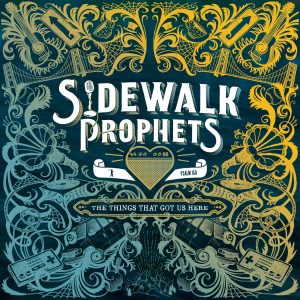 The Things That Got Us Here
Track Listing
1. Intro (Smile)
2. Smile
3. Chosen
4. Where Forgiveness Is
5. Real To Me
6. Don't You Think It's Time
7. You Were There
8. I Believe It Now
9. Let Go Your Troubles
10. There's A Way
11. Thank you Jesus
12. Don't Sweat It
13. The Comment Section
14. The Light
15. Smile (Single Mix)