Curb Records recording artist Jackson Michelson cranks the volume up to 11 on his new song, "Amplifier," available today (6/25). Listen to the electric jam HERE.
Although Michelson didn't have a hand in writing the groove-laden track, from the first note, he was confident it was a tune he wanted to cut. '"Amplifier' is a song that the moment I heard it, I knew it was for me," the Oregon native shares. "It was one of the only songs I have ever recorded that I didn't write. I remember hearing Garth Brooks talk about hearing a song as an artist and even though you didn't write it, you feel like you did. It is so engaging and entertaining and feel-good, I had to record it. I remember calling my manager after hearing just a verse and chorus of the song and knew I had to release it. It is just so much fun!"
Penned by Billy Montana, Kyle Jacobs and Ben Glover, "Amplifier" follows the release of Michelson's current radio single, "Tip Jar." (Watch the official lyric video for "Tip Jar" HERE.)
To date, Michelson's catalog has topped 15 million streams. Fans can catch the singer and songwriter perform favorites from his heavily-streamed discography as he officially heads back out on the road this summer.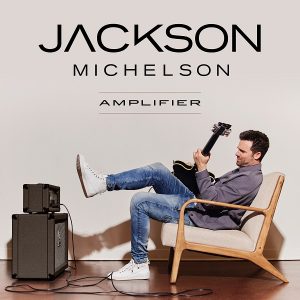 Stream or purchase "Amplifier" HERE.
For more information and current tour dates, visit www.jacksonmichelson.com.
About Jackson Michelson:
Curb Records recording artist Jackson Michelson's previous releases and powerful arrangements have been praised for "staying atop the beat to drive it through to the end" (Taste of Country). The promising rising star grew up in the "Grass Seed Capital of the World," Corvallis, Oregon, listening to the sounds of his mother's favorite country songs and father's soul. Always looking up to his older brother who toured as a Christian artist, Michelson joined him on the road to help sell merch while taking everything in and making a to-do list all his own. After returning home with an undeniable fire lit inside of him, Michelson started playing in bands throughout his hometown while writing songs that balanced high-energy hooks with good-natured storylines. Songs like "The Good Life" have been embraced by many and earned the support of SiriusXM's The Highway, which helped Michelson reach new fans across the country. Before he knew it, his schedule was filled with over 200 shows a year, including opening slots for Blake Shelton, Lee Brice, Frankie Ballard, and more. Looking ahead, Michelson is excited for the next chapter of his "good life"—one he's built himself, show by show, and song by song—with new cities to play, songs to be written and opportunities to explore. Michelson will release his new EP, Back To That Summer, on September 17, 2021. The EP will feature previously released songs such as "One At A Time," "One Day," "Stay Over," and current radio single "Tip Jar." New songs from the EP will begin releasing on June 25, 2021 with the release of "Amplifier," followed by "Love High" on August 6, 2021.
About Curb Records:
Celebrating 57 years in business, Curb Records is one of the world's leading independent music companies. Owned and operated by Mike Curb since 1964, Curb Records has achieved 435 number one records, over 1,500 Top Ten records and charted over 4,500 total records. With over a half century in operation, Curb Records has been influential in the careers of some of the biggest names in music, including: Tim McGraw, Hank Williams, Jr., Rodney Atkins, Lee Brice, LeAnn Rimes, The Judds, Dylan Scott, Sawyer Brown, Wynonna, Lyle Lovett, Jo Dee Messina, Hal Ketchum and Desert Rose Band, among many others. Today's roster includes some of the top names across multiple genres of music. For more information, visit www.curb.com.