New 11-Track Collection Features Recent Release, "Happy Again"
MCC/Curb Records recording artist American Young officially begins a new artistic chapter today (11/19) with the release of their sophomore album, AYII. The highly anticipated collection features the duo's recent release, "Happy Again," and marks the first full-length studio project Kristy Osmunson and Jon Stone have shared since the pair's 2016 self-titled debut, which introduced their penchant for vivid storytelling and signature harmonies on seminal selections like "Love Is War" and "Wasn't Gonna Drink Tonight." Since then, they have become global ambassadors for country music, taking their original songs around the world. AYII feels like a natural progression in a story that's just getting started—listen HERE.
American Young produced the entire record alongside Kyle Schlienger, with the exception of album closer "Country Girls," which Stone produced with the help of John Vesley and label-mate Lee Brice. In addition, Osmunson and/or Stone are credited as co-writers on all 11 tracks, leaving their fingerprints on an album crafted in the midst of personal transition and growth for both songwriters.
"AYII is a collection of roadside souvenirs on the rural highway of our inevitable evolution," shares Stone. "Polaroids. Storms. Open fields. Therapy. Burning of fields to make way for new growth. We've attempted to open personal doors that have been patiently waiting—annoyingly, stubbornly waiting—for a sliver of truth. Hopefully, we've delivered."
For Osmunson, the songs on AYII became the soundtrack for first-time motherhood as she welcomed her two sons. "This album was created during the most pivotal time in life, made while creating two humans. If I could capture the process this music brought about in five words, I would say: sobriety, health, growth, responsibility and joy," she says. "These last five years have been a massive transition. As it always does, this music brought about a full revolution in my existence as a human."
AYII features the five selections previously packaged for American Young's Soundtrack Of Your Life EP, including "Gonna Be You," which serendipitously released the same weekend Osmunson gave birth to her first child. Moreover, the BCMA award winners' second offering serves up the pop-leaning "Happy Again," as well as five additional new tracks with co-writing assists from heavy hitters like Rodney Clawson, Billy Montana and Phil Barton, among others.
American Young recently dropped the official music video for "Happy Again." Watch the clip HERE.
Stream or purchase AYII HERE. For more information and current tour dates, visit www.americanyoung.com.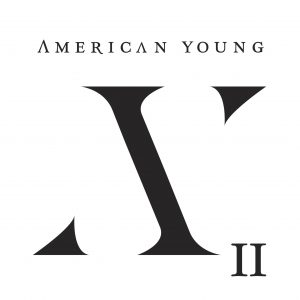 AYII Official Tracklisting:
"Happy Again"
"Some Girl"
"Whiskey Don't Work"
"Let You Down"
"Gonna Be You"
"Soundtrack Of Your Life"
"Falling Star"
"Seminole Wind"
"Say It To Me Sober"
"Die Another Day"
"Country Girls"
About American Young:
American Young is made up of Country singer/songwriters Kristy Osmunson and Jon Stone, both of whom found success in Nashville before joining forces in 2013. Prior to launching American Young, Osmunson, a fiddle player and former member of vocal group Bomshel, had songs recorded by Joey + Rory, among others; while Stone was an in-demand producer who had cuts recorded by Rascal Flatts, Kenny Chesney, Blake Shelton, and others. Following the release of their self-titled debut for Curb Records, featuring the singles "Love Is War" and "Wasn't Gonna Drink Tonight," American Young was nominated three years in a row for a British Country Music Association Touring Award, which they won in 2019 solidifying their place as global ambassadors of Country music. The duo can be seen on the first three seasons of the hit E! reality series "Very Cavallari."
About MCC/Curb Records:
Celebrating 57 years in business, Curb Records is one of the world's leading independent music companies. Owned and operated by Mike Curb since 1964, Curb Records has achieved 435 number one records, over 1,500 Top Ten records and charted over 4,500 total records. With over a half century in operation, Curb Records has been influential in the careers of some of the biggest names in music, including: Tim McGraw, Hank Williams, Jr., Rodney Atkins, Lee Brice, LeAnn Rimes, The Judds, Dylan Scott, Sawyer Brown, Wynonna, Lyle Lovett, Jo Dee Messina, Hal Ketchum and Desert Rose Band, among many others. Today's roster includes some of the top names across multiple genres of music. For more information, visit www.curb.com.