New album features guest appearances, street-smart hip-hop, and soaring pop hooks, all glued together by Ty Brasel's optimistic lyrics
IVAV's Ty Brasel knows a thing about destiny. Raised on the outskirts of Memphis, he struggled with criminal behavior before rediscovering God and renewing his purpose. Now a faith-driven hip-hop star, he reflects upon his life story — and encourages others to move past their own obstacles — with his newest mixtape, Destiny: Vol. 1. Listen HERE.
Released today by IVAV (a hip-hop division of Curb Records), Destiny: Vol. 1 is full of rapid-fire rhymes, melodic hooks, hard-hitting beats, and celestial keyboards. The result is a genre-crossing hip-hop record for doubters and believers alike, delivered by an artist who has proudly traded the darkness of his past for the bright promise of a better future. Produced by Dirty Rice, Joseph Prielozny, and JuiceBangers, Destiny: Vol. 1 also features cameos from a long list of hip-hop collaborators, including Jay-Way, J. Monty, Plan G, 1k Phew, Jenna Wright, and Parris Chariz.
Destiny: Vol. 1 arrives on the heels of 2020's The Divine Storm and 2018's Destined For Greatness, two solo albums whose hip-hop highlights — including viral hits like "Praying Hands," "Night Dreaming," and "Highlight" — helped Brasel earn more than 52 million streams worldwide. He builds upon that success with Destiny: Vol. 1, mixing his longtime fondness for southern rap and contemporary pop with atmospheric interludes, autobiographical lyrics, and the otherworldly uplift of gospel music. Brasel has always created his own sound, but he's never sounded so driven — so destined, even — as he does here.
"Doubt, trauma, and fear can threaten to get in the way of people accomplishing their goals," says Brasel, who raps about his past struggles to help inspire others to seek salvation. "Sometimes, they can hinder you from even trying. I'm trying to show people, using my own life and my own music as an example, that you can always keep going."
Destiny: Vol. 1, Brasel's mixtape release for IVAV, is available HERE now.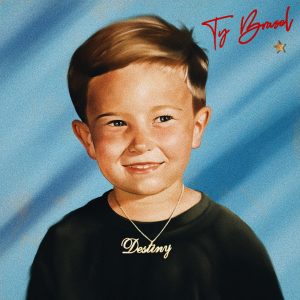 About Ty Brasel:
Ty Brasel was born in Memphis, TN, where he grew up at the intersection of East Memphis & Olive Branch, MS. This area, referred to by locals as "Memphissippi," is where Ty first recognized his passion for music. His style, as showcased on 2017's "Young T," 2018's "Destined For Greatness," and 2020's "The Divine Storm" draws inspiration from the southern style of rap he was raised with, as well as influences like Kendrick Lamar, Curren$y, and Post Malone.
Ty's songs are often aimed at people in the down cycles of life, and in his lyrics, the theme of overcoming life struggles and personal demons is ever present. The notion that while there may be storms within, peace and hope are attainable. He explains: "As I️ become more aware of my own heart and mind, dealing with my issues, I️ turn that into lyrics. So many of the songs on this new project have come out of me facing my problems head on and reaching out when everything in me wants to turn away. We can overcome even the worst of adversities."
 About Curb | Word Entertainment:
In 2016, Curb Records acquired Word Entertainment, combining two of the music industry's most respected global brands, and more than a century of collective experience. Today, Curb and Word are two of the world's leading independent music companies. Owned and operated by Mike Curb, the Curb | Word family includes the labels Curb, Word, Squint, Fervent, Sidewalk, MCC and IVAV, as well as Curb Publishing, Word Publishing, 25 Live, Curb Films, Word Films, Word Entertainment, and Curb Sports, representing top artists and entertainers in Country, Christian, Pop, Rock, and Hip-Hop. For more information, visit www.curb.com.
For more information on Ty Brasel, go to: