Genre-crossing collaboration finds Jay-Way sharing vocals with guest rapper Parris Chariz
Nashville, Tenn. (March 18, 2022) — Don't get in the way of IVAV artist Jay-Way's hustle. On "Shawty Goodnight (feat. Parris Chariz)," the hip-hop innovator bids goodbye to a jealous lover who has pushed him into a corner, forcing him to choose between romance and music. He chooses to stay loyal to his art, turning "Shawty Goodnight" into a tribute to creativity and commitment. Listen to the track HERE.
"I wrote this song reflecting on an ex who made me feel like I had to choose between spending more time with her or clocking more hours in the studio," says Jay-Way. "I wrote this song to serve as an anthem for all creatives who feel like they're being held back by their partners."
A different kind of partnership runs through "Shawty Goodnight," which finds Jay-Way sharing vocal duties with guest rapper Parris Chariz. The song's verses are packed with rhythm and rhyme, but the two artists sing those lyrics rather than rapping them. The result is a song whose momentum is matched by its melody, with synthesizers, electric guitar riffs, and an 808 drum loop all evoking the neon nostalgia of the 1980's.
Don't mistake "Shawty Goodnight (feat. Parris Chariz)," for a track that looks backward, though. This is a modern-day tribute to the artistic pursuit, delivered by a multi-lingual, genre-bending songwriter who has always embraced unconventionality. Jay-Way is dedicated to the climb, and these days, he's looking nowhere but up.
"Shawty Goodnight (feat. Parris Chariz)," is available HERE today.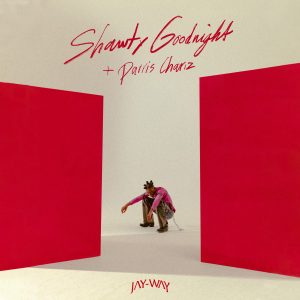 About Jay-Way:
Jay-Way is redefining hip-hop music. Based in Amsterdam, he brings a broad, boundary-breaking perspective to the genre, filling his songs not only with the street-smart swagger of rap, but also the modern melodies of pop, the laidback cool of old-school soul music, and the optimistic outlook of gospel. It's a sound that hasn't just set him apart from his contemporaries; it's made him a genuine star at home and abroad, too, with songs like "Happen Dappen" topping Spotify's NL Viral Chart while racking up nearly 2.5 million streams. Arriving in 2020, No, I'm Not OK follows the previous releases Jaynalysis, No Life No Wifi, and Teen Gohan, mixing  Jay-Way's most pop-influenced songs to date with lyrics about trusting your gut and rising above your obstacles.
About Curb Records:
Celebrating 58 years in business, Curb Records is one of the world's leading independent music companies. Owned and operated by Mike Curb since 1964, Curb Records has achieved 435 number one records, over 1,500 Top Ten records and charted over 4,500 total records. With over a half century in operation, Curb Records has been influential in the careers of some of the biggest names in music, including: Tim McGraw, Hank Williams, Jr., Rodney Atkins, Lee Brice, LeAnn Rimes, The Judds, Dylan Scott, Sawyer Brown, Wynonna, Lyle Lovett, for KING & COUNTRY, We Are Messengers and Big Daddy Weave, among many others. Today's roster includes some of the top names across multiple genres of music. For more information, visit www.curb.com.