Grant Wraps 2022 "K-LOVE Christmas Tour" This Weekend
Nashville, Tenn. (December 16, 2022) — Award-winning Curb | Word Entertainment recording artist Natalie Grant puts a spiritual stamp on "You Will Be Found" from the celebrated musical-turned-movie Dear Evan Hansen. Enlisting the help of acclaimed singer/songwriter Cory Asbury, Grant's moving version of the hope-filled ballad is available today (12/16) — listen HERE.
"The first time I ever heard this song, I was so overcome with how it just made me think of the message of the Gospel. The lyrics immediately made me think of the love of Jesus and how it has the ability to find every single one of us. It doesn't matter who you are or what you've done, there's never a moment that you are so far gone that the love of God can't find you," Grant says. "I feel like I have the opportunity, not only to let the love of God find me, but to then let the love of God shine through me so I can carry that light and that love to so many people who need to know the message that no matter who you are, when you're broken and on the ground, you will be found."
"You Will Be Found (feat. Cory Asbury)" was written by Benj Pasek and Justin Paul (La La Land, The Greatest Showman); and produced by Grant's husband, Bernie Herms. The track has become an anthem for those struggling with anxiety and depression, and Grant prays her rendition will provide a source of encouragement and peace for listeners as she points to the ultimate hope found in Jesus in the midst of a busy holiday season.
The nine-time GRAMMY® nominee will wrap the 2022 "K-LOVE Christmas Tour" alongside Danny Gokey, Brandon Heath, Tasha Layton and Jon Reddick this weekend as the multi-artist outing makes final stops in Texas and Arkansas.
Stream or purchase "You Will Be Found (feat. Cory Asbury)" HERE. For more information, visit www.nataliegrant.com.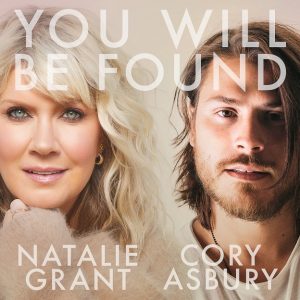 About Natalie Grant:
Nine-time GRAMMY® nominee Natalie Grant has remained one of Christian music's top-selling artists since her 2005 breakout RIAA Gold-certified album, Awaken. Having been named Female Vocalist of the Year by the Gospel Music Association five times, Grant has propelled multiple singles and records to the #1 spot on the Billboard album charts. Along with her friend Charlotte Gambill, she launched "Dare to Be," a series of special one-night events for women. In addition, she's the author of multiple books, including the Glimmer Girls series for tween girls. A fierce advocate for social justice, she's also the co-founder of Hope for Justice, an international non-profit organization with 32 offices, spanning 10 countries, that works to end modern-day slavery. The singer and her husband, GRAMMY® Award-winning songwriter/producer Bernie Herms, live in Nashville with their three daughters. Natalie's tenth studio album, No Stranger, is available now.
About Curb | Word Entertainment:
In 2016, Curb Records acquired Word Entertainment, combining two of the music industry's most respected global brands, and more than a century of collective experience. Today, Curb and Word are two of the world's leading independent music companies. Owned and operated by Mike Curb, the Curb | Word family includes the labels Curb, Word, Squint, Fervent, Sidewalk, MCC and IVAV, as well as Curb Publishing, Word Publishing, 25 Live, Curb Films, Word Films, Word Entertainment, and Curb Sports, representing top artists and entertainers in Country, Christian, Pop, Rock, and Hip-Hop. For more information, visit www.curb.com.