Slated for Danny Gokey's "Jesus People Tour" This Spring
Nashville, Tenn. (February 10, 2023) — Curb | Word Entertainment recording artist Blanca recruits 10-time GRAMMY® nominee Tauren Wells for a fresh version of her current radio single, "Something Better," out today (2/10). Preview the reimagined track HERE.
Together, Blanca and Tauren sing of how God can and will redeem all things in this all new iteration of "Something Better," the next diary entry from the Latin songstress as she reflects on the important lessons she's learned and the significant ways she's grown over the past few years following her divorce. The sparsely produced selection, which she wrote with Isabella Sjöstrand and Anton Göransson, shares how God turned her pain into purpose every step of the way.
The original studio rendition of "Something Better" was first heard on Blanca's latest album, The Heartbreak And The Healing. Her third full-length effort offers two sides of the same story — the hurt and the redemption. The singer and songwriter vulnerably cracks her heart wide open on the new 13-track collection that beautifully showcases the merger of her unstoppable voice and her transparent lyricism. A diverse fusion of pop, Latin, hip-hop and Gospel, the offering follows Blanca on a journey of self-discovery as she rises from the ashes stronger and more empowered than ever before. The fresh set features chart-topping hit "Even At My Worst" and Top 10 single "The Healing (feat. Dante Bowe)." Additionally, the record also includes collaborations with acclaimed Gospel artist Jekalyn Carr ("New Day") and hip-hop titan Ty Brasel ("Never Too Far").
The powerhouse vocalist will join Danny Gokey and Jordan Feliz on the "Jesus People Tour" this spring. The 24-date run begins Feb. 16 in Jacksonville, Fla., and concludes Mar. 26 in Memphis, Tenn. A full list of dates and cities can be found below.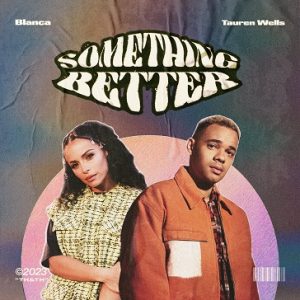 Stream or purchase Blanca's "Something Better (feat. Tauren Wells)" HERE. For more information, visit www.officialblanca.com.
Blanca "Jesus People Tour" Dates — Spring 2023
Feb. 16 // Jacksonville, FL
Feb. 17 // Fort Lauderdale (Boca Raton), FL
Feb. 18 // Port St. Lucie, FL
Feb. 19 // Atlanta (McDonough), GA
Feb. 23 // Wichita, KS
Feb. 24 // Odessa, TX
Feb. 25 // Houston (Webster), TX
Feb. 26 // Dallas (Sunnyvale), TX
Feb. 28 // Denver, CO
Mar. 2 // Scottsdale, AZ
Mar. 3 // Redlands, CA
Mar. 4 // Spring Valley, CA
Mar. 7 // Las Vegas, NV
Mar. 9 // Sacramento, CA
Mar. 10 // Salem, OR
Mar. 11 // Tacoma (Puyallup), WA
Mar. 12 // Coeur D'alene, ID
Mar. 16 // Omaha, NE
Mar. 17 // Minneapolis (Burnsville), MN
Mar. 18 // Minneapolis (Burnsville), MN
Mar. 19 // Milwaukee (Oak Creek), WI
Mar. 24 // Cincinnati (Mason), OH
Mar. 25 // Winston-Salem, NC
Mar. 26 // Memphis, TN
*All dates and cities subject to change.
About Blanca:
Blanca is a powerful pop vocalist of Puerto Rican descent who was born in New York City and at a young age moved to Florida, where she lives today. She has nearly 118 million career streams. The Premios Redencion, Arpa Award, and Tecla Award winner's self-titled, debut solo album — following a successful Dove Award-winning run with Group 1 Crew — garnered two No. 1 radio singles: "Who I Am" and "Not Backing Down (feat. Tedashii)," the latter of which was featured on ESPN. Shattered, Blanca's second album and a project that is very personal to her, added three back-to-back No. 1 radio singles ("Real Love," "What If," and "Remind Me") to her story. Blanca's recent radio single, "Even At My Worst," became her fifth No. 1. Her latest solo project, The Heartbreak And The Healing, is available now.
About Tauren Wells:
Tauren Wells is a celebrated platinum-selling recording artist, multi-instrumentalist and songwriter, with 10 GRAMMY® Award nominations, six number 1's, 225+ million career video views, six GMA Dove Awards, a Billboard Music Award nomination, and over 1 billion global streams to date, and counting. Through his precise artistry, masterful lyrics, and dance-oriented performances, Tauren uniquely connects his contemporary Christian and Gospel sound with elements of pop, hip-hop and R&B. Tauren debuted his solo music in 2017 with the pop hit, "Love Is Action," which held the no. 1 spot at CHR radio for eight weeks. Soon followed the GRAMMY®-nominated and RIAA platinum-certified "Hills and Valleys," a thought-provoking piano and cello-driven track that found a home on Christian Airplay's Top 10 for several consecutive weeks. In 2018, Tauren released "Known," the RIAA gold-certified single which reached no. 1 on multiple charts including Christian Airplay and Christian AC Songs, while garnering him a 2019 GRAMMY® Award nomination for Best Contemporary Christian Music Performance/Song and Billboard Music Award for Top Christian Song. His most recent collaboration with H.E.R., "Hold Us Together," was nominated for a 2022 GRAMMY® Award for Best Contemporary Christian Music Performance/Song, along with a 2022 BET Award nomination and a 2022 NAACP Image Award nomination. His album Citizen of Heaven (Live) was up for a 2022 GRAMMY® Award for Best Contemporary Christian Music Album and generated the RIAA gold-certificated single, "Famous For (I Believe)." Having toured with the iconic likes of Lionel Richie and Mariah Carey, this consummate performer averages nearly 90 shows a year across North America. In October, he will crisscross America on the "Joy in the Morning Tour," his third headline outing (along with special guests Aaron Cole and Lakewood Music) in support of his latest album Joy In The Morning (June 2022), which features the hit singles "Fake It," "Empty," "Come Home," and the title track.
About Curb | Word Entertainment:
In 2016, Curb Records acquired Word Entertainment, combining two of the music industry's most respected global brands, and more than a century of collective experience. Today, Curb and Word are two of the world's leading independent music companies. Owned and operated by Mike Curb, the Curb | Word family includes the labels Curb, Word, Squint, Fervent, Sidewalk, MCC and IVAV, as well as Curb Publishing, Word Publishing, 25 Live, Curb Films, Word Films, Word Entertainment, and Curb Sports, representing top artists and entertainers in Country, Christian, Pop, Rock, and Hip-Hop. For more information, visit www.curb.com