Ellis To Head Across The Pond This Spring For C2C Festival
Nashville, Tenn. (February 10, 2023) — Curb Records recording artist Hannah Ellis unveils fragile new song "Someone Else's Heartbreak," dedicated to her younger sister, and anyone whose heart might be fractured. The honest track, led by the push and pull of Ellis' emotive vocal, is available today (2/10). Listen to the vulnerable recording HERE, and watch the official lyric video HERE.
Ellis speaks the words she wishes she could hear on "Someone Else's Heartbreak." She penned the poignant selection with Josh Kerr and Emily Falvey after her sister went through a devastating breakup, making Ellis realize how often we don't take our own counsel when it comes to matters of the heart. It's easy to dole out hard truth when you're on the outside looking in, but the same advice falls on deaf ears when it's your heart that's breaking.
"Someone Else's Heartbreak" is Ellis' next poetic offering in a line of original releases introducing the newcomer's voice to a growing fanbase who's already familiar with her lyrically thoughtful songs, which have been recorded by Carly Pearce, Russell Dickerson, FOR KING + COUNTRY and more. To date, the respected songwriter has previously released the genre-affirming radio single "Country Can," the real-life-relationship inspired "Us" and the nostalgic "Home And A Hometown."
Ellis is slated to share her original music in the UK Mar. 10-12, 2023, as part of the lineup for this year's C2C Festival.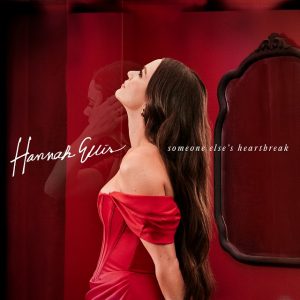 Stream or purchase "Someone Else's Heartbreak" HERE. For more information, visit www.hannahellismusic.com.
 About Hannah Ellis:
Curb Records recording artist and country music singer/songwriter Hannah Ellis' journey — and world — is one all can feel at home in. The Campbellsville, Kentucky-native's voice — a mix of favorite flannel, sparkling pink wine and welcome — is the friend we always wanted. Whether pouring from a car radio or your phone, the act named to Rolling Stone Country's "Artist To Watch" list reminds you big leaps often come as a series of small steps when no one is looking. Having paid for her University of Kentucky degree with her full-ride scholarship, she — with the full support of her family — started chasing her dreams. Like so many, that meant a self-financed EP, and moving to Nashville to begin the endless rounds of writers nights, meetings, making friends, and trying to find your way. Hannah paid her dues, kept her focus and kept moving toward something she was sure she felt and knew was right. The fresh-faced songwriter, who has 33.7 million career streams, has since written songs recorded by artists, and been featured as a vocalist on songs, spanning multiple genres, including: Russell Dickerson, Carly Pearce, FOR KING + COUNTRY, Emily Weisband, Cassadee Pope, FILMORE, and Sidewalk Prophets. The magnetic artist, who has appeared on the Grand Ole Opry multiple times since making her debut, has toured with Carly Pearce, Gavin DeGraw, Dwight Yoakam, Devin Dawson, and many others, and has toured as part of the CMT "Next Women of Country" Tour. Ellis was invited back by her college alma mater to be featured in a national television advertising campaign about pursuing and achieving your dreams. Hannah is one of the "CMT LISTEN UP" artists to watch for 2023. Her new radio single, "Country Can," is available now.
About Curb Records:
Celebrating 60 years in business, Curb Records is one of the world's leading independent music companies. Owned and operated by Mike Curb since 1964, Curb Records has achieved 435 number-one records, over 1,500 Top Ten records, and charted over 4,500 total records. With over a half-century in operation, Curb Records has been influential in the careers of some of the biggest names in music, including: Tim McGraw, Hank Williams, Jr., Rodney Atkins, Lee Brice, LeAnn Rimes, The Judds, Dylan Scott, Sawyer Brown, Wynonna, Lyle Lovett, FOR KING + COUNTRY, Big Daddy Weave & We Are Messengers, among many others. Today's roster includes some of the top names across multiple genres of music. For more information, visit www.curb.com.
Hannah Ellis – Someone Else's Heartbreak (Official Lyric Video) – YouTube