New Five-Song EP is out now!
 BBC Radio 2 Premieres "Die Another Day" in U.K.
British Country Music Association Awards Nominee – International Touring Artist
Country duo American Young announces the release of Soundtrack Of Your Life, available now. The five-song set features fan favorite "Gonna Be You," as well as the title track, which has already amassed over half a million streams on Spotify, and has been added to multiple playlists on the platform, including "New Music Nashville," "Wild Country," and "Next From Nashville," among others.
"We're stoked to finally release what we've been working on for so long," American Young says, fresh off of the Tuesday, August 20, 2019 announcement of American Young as International Touring Artist nominees by the British Country Music Association for the third year in a row. "We're so lucky to get to live our dream!"
The duo—comprised of Kristy Osmunson and Jon Stone— recently visited Houston Middle School in Memphis, Tenn., where they performed "Soundtrack Of Your Life" with the school's band and inspired kids to live out their dreams. The video, shared by the CMA Foundation, has already garnered more than 65K views. (Watch the clip below)
To celebrate their new EP, American Young will have a headline performance at the Red Baron Ball in Grand Junction, Colo., on Saturday (8/24). The duo will then take its new music overseas with upcoming dates in London, Manchester and Scotland. While in the U.K., American Young will be interviewed by "London Live," London's biggest TV news outlet, along with an in-studio "BBC Sessions" performance. Their performance follows the U.K. premiere of "Die Another Day" on BBC Radio 2 earlier this month.
In between writing and recording the Soundtrack Of Your Life EP, the duo appeared on the first two seasons of E's "Very Cavallari" and is slated to appear on Season 3 of the reality series. In addition, Jon Stone also produced Lee Brice's most recent No. 1 hit, "Rumor," alongside Kyle Jacobs and Dan Frizsell. With international dates already confirmed for 2020 in the U.K., Germany, Amsterdam, Mexico, Canada and more, American Young will continue their trek around the globe.
Soundtrack Of Your Life was produced by Kyle Schlienger and American Young.
American Young Upcoming Tour Dates:
8/24: Red Baron Ball – Grand Junction, CO
8/29: Bush Hall – London, U.K.
8/30: Soup Kitchen – Manchester, U.K.
9/1: Millport Music Festival – Isle of Cumbrae, Scotland
10/20: Eddie's Attic – Atlanta, GA
10/25-26: Under the Canvas – Pigeon Forge, TN
About American Young:
American Young is comprised of Country singer/songwriters Kristy Osmunson and Jon Stone, both of whom found success in Nashville before joining forces in 2013. Prior to launching American Young, Osmunson, a fiddle player and accomplished songwriter with songs recorded by Joey + Rory, among others; while Stone was an in-demand producer who had cuts recorded by Rascal Flatts, Kenny Chesney, Blake Shelton, and others. Following the release of their self-titled debut for Curb Records, featuring the singles "Love Is War" and "Wasn't Gonna Drink Tonight," American Young was nominated for a British Country Music Association Touring Award two years in a row. The duo performed in more than 16 counties in 2018 alone. In addition, the duo can be seen on the hit E! series "Very Cavallari." American Young's new EP, Soundtrack Of Your Life, is out now!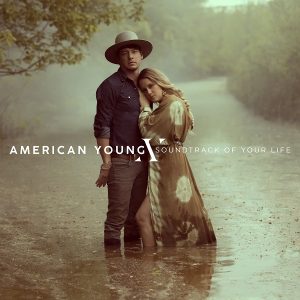 Soundtrack Of Your Life Track Listing:
Track Listing
Gonna Be You
Seminole Wind
Die Another Day
Falling Star
Soundtrack Of Your Life
For the latest tour dates, visit www.americanyoung.com or connect with the band on Facebook, Twitter and Instagram.