"Gonna Be You (RUSLAN Remix)" Debuts Today 2/21/20
Curb Records duo American Young releases "Gonna Be You (RUSLAN Remix)" to all digital service providers today. Kristy Osmunson and Jon Stone give the popular song—originally released last spring—a refresh with this exclusive remix version available now.
Jon harnesses lead vocals on the first verse of the wistful track as he reflects on the demise of young love, wondering if he'll ever get a second chance. As if echoing his thoughts, Kristy leads with a female perspective on the second verse as she finds the courage to rewrite the past. Their signature harmonies intertwine when the song finds its resolve in a relationship that was meant to be.
"I think 'Gonna Be You' is a promise," Jon says of the song, "almost like, 'I'm out here chasing my meaning in life, and there's no one I'm ready to be with; but when I am, it's gonna be you.'"
For Kristy the song serves as a compass. "Life takes us down so many winding roads in pursuit of our dreams," she observes. "The farther away from home we get, the closer to home we are. Home is where my love is."
Kicking off the new decade with new music, last month American Young released "Some Girl." The fresh track hit streaming platforms in conjunction with the duo's appearance on the Season 3 premiere of E!'s hit reality series, "Very Cavallari," on which Stone has a recurring role.
American Young capped 2019 with their first ever British Country Music Association (BCMA) Award, after being named "International Touring Artist of the Year." The accolade marks the third consecutive nomination for the duo and American Young's first BCMA win. The globe-trotting duo already has dates confirmed for 2020 in the U.K., Germany, Amsterdam, Mexico, Canada and more. They recently returned from Island Time Music Fest in Isla Mujeres, Mexico, where festival proceeds benefit the island's Little Yellow Schoolhouse and its service to local, special needs children.
About American Young:
American Young is comprised of Country singer/songwriters Kristy Osmunson and Jon Stone, both of whom found success in Nashville before joining forces in 2013. Prior to launching American Young, Osmunson, a fiddle player and former member of vocal group Bomshel, had songs recorded by Joey + Rory, among others; while Stone was an in-demand producer who had cuts recorded by Rascal Flatts, Kenny Chesney, Blake Shelton, and others. Following the release of their self-titled debut for Curb Records, featuring the singles "Love Is War" and "Wasn't Gonna Drink Tonight," American Young was nominated three years in a row for a British Country Music Association Touring Award, which they won in 2019 solidifying their place as global ambassadors of Country music. The duo can be seen on the first three seasons of the hit E! reality series "Very Cavallari." American Young's latest EP, Soundtrack Of Your Life, is available now.  For more information and all tour dates, visit www.americanyoung.com.
About Curb Records
 Celebrating 56 years in business, Curb Records is one of the world's leading independent music companies. Owned and operated by Mike Curb since 1964, Curb Records has achieved 435 number one records, over 1,500 hundred Top Ten records and charted over 4,500 total records. With over a half century in operation, Curb Records has been influential in the careers of some of the biggest names in music, including: Tim McGraw, Hank Williams, Jr., Rodney Atkins, Lee Brice, LeAnn Rimes, The Judds, Dylan Scott, Sawyer Brown, Wynonna, Lyle Lovett, Jo Dee Messina, Hal Ketchum and Desert Rose Band, among many others. Today's roster includes some of the top names across multiple genres of music. For more information, visit www.curb.com.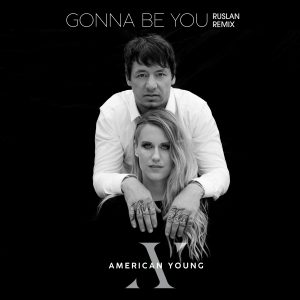 Stream or purchase "Gonna Be You" (RUSLAN Remix)" HERE.