Fierce, faithful record mixes autobiographical lyrics with universal messages of hope and resilience
The Divine Storm, hip-hop artist Ty Brasel's newest album, is a self-prescribed audio narrative, inspired by the literal and metaphorical storms that blow across our radar. Driven by strong rhymes, melody heavy hooks, and stellar production, it demands the attention of the listener at every turn.
Released today, The Divine Storm tells Brasel's personal story — a lifelong journey that's taken him from the lows of a crime-ridden past to the bright highs of his spiritual awakening, racking up more than 35 million streams and 5 million YouTube views along the way — while also delivering a universal message of redemption and reassurance. After all, there's a plan for all of this bad weather, and brighter days lay just ahead.
"I'm a miracle walking," he raps in "Highlight," one of several tracks featuring cameos from collaborators like KB, WHATUPRG, 1K Phew, J. Monty, and Brianna Catrice. Released during the weeks leading up to The Divine Storm's May 1st arrival, "Highlight" and "The Power" have already racked up more than 600,000 streams on Spotify, paving the way for the biggest album of Ty Brasel's career. Inspired by the musician's transformation from a substance-abusing teenager to a conscious, faith-driven adult artist, The Divine Storm uses its creator's life story to sympathize with an anxious world caught beneath stormy skies. Songs like "Sweet Misery" and the moody "Night Dreaming" are rooted in lyrics about anxiety and escapism, while the anthemic "Paid For It" finds Brasel turning to God for support. As the album unfolds, Brasel becomes more confident in his spiritual mission, rapping about survival and salvation while deftly mixing together the beat-heavy bounce of hip-hop, the hooks of pop music, and the celebratory uplift of gospel.
"The world is experiencing unprecedented times," says Brasel, who grew up on the outskirts of Memphis and began attracting attention with his independent debut, 2017's Young T, before signing with IVAV, a division of Curb | Word Entertainment. "We are experiencing a global health, economic, and mental crisis. I've always believed that music has healing power, and that words have the power to shift mindsets and speak life into dead places. The story of my album is one of great hope, attempting to communicate that God still has plans for us despite our current reality."
The Divine Storm isn't just a story about one man's spiritual rebirth. It's a rallying cry for anyone bogged down by life's twists and turns. A promise of a bigger, better world that's waiting to bloom. And, perhaps most importantly, a reminder that better days are ahead.
About Ty Brasel:
Ty Brasel was born in Memphis, TN, where he grew up at the intersection of East Memphis & Olive Branch, MS. This area, referred to by locals as "Memphissippi," is where Ty first recognized his passion for music. His style, as showcased on 2017's "Young T," & 2018's "Destined For Greatness" draws inspiration from the southern style of rap he was raised with, as well as influences like Kendrick Lamar, Curren$y, and Post Malone.
Ty's songs are often aimed at people in the down cycles of life, and in his lyrics, the theme of overcoming life struggles and personal demons is ever present. The notion that while there may be storms within, peace and hope are attainable. He explains: "As I️ become more aware of my own heart and mind, dealing with my issues, I️ turn that into lyrics. So many of the songs on this new project have come out of me facing my problems head on and reaching out when everything in me wants to turn away. We can overcome even the worst of adversities."
About Curb | Word Entertainment:
In 2016, Curb Records acquired Word Entertainment, combining two of the music industry's most respected brands, and more than a century of collective experience. Today, Curb and Word are two of the world's leading independent music companies. Owned and operated by Mike Curb, the Curb | Word family includes the labels Curb, Word, Squint, Fervent, Sidewalk, and IVAV, as well as Curb Publishing, Word Publishing, 25 Live, Curb Films, Word Films, Word Entertainment, and Curb Sports, representing top artists and entertainers in Country, Christian, Pop, Rock, and Hip-Hop.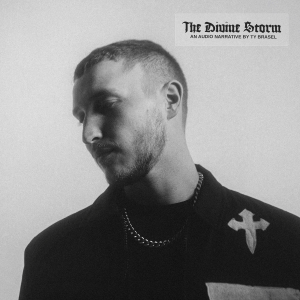 The Divine Storm
Track Listing
1. Sweet Misery (Intro)
2. Night Dreaming
3. Whirlwind
4. Paid For It
5. The Ascent (Interlude)
6. Airborne
7. No Limits
8. Kill My Mood
9. Love Set Me Free (Interlude)
10. To The Westside
11. I'm Grateful
12. When World's Collide (Outro)
13. The Power
14. Highlight