Full-length album features collaborations with Snoop Dogg, Shaggy, Fisk Jubilee Singers, and more
Nashville, Tenn. (June 3, 2022) — IVAV recording artist Steven Malcolm celebrates a career in full bloom with the release of his highly-anticipated third album, Tree, today. On an album filled with guest stars such as Snoop Dogg, Shaggy, Fisk Jubilee Singers and more, Tree remains grounded in the sharply-written lyrics and eclectic energy of its creator: a musician who has learned to lead by example, funneling his faith into songs that inspire and invigorate. Listen to the album HERE.
"Jamaicans pronounce the number three by saying 'tree,'" notes Malcolm, the son of a Jamaican man who left the family during Malcolm's youth. "This being my third studio album, I wanted to focus on the growth and fruit that came from a foundation rooted in truth. I'm a family man now. With me being a present dad in my son's life, I'm changing the trajectory of my family life. I'm repairing the family tree. My son will know what a man of God and a faithful husband looks like."
Tree marks Malcolm's most fully realized blend of hip-hop rhymes and reggae rhythms and the most collaborative record of his career, featuring appearances from an acclaimed roster of guests; the Fisk Jubilee Singers add their world-renowned gospel harmonies to the album's opening track, "Heavenly Father," while rap icon Snoop Dogg contributes a verse to the West Coast-inspired single "Summertime," and Malcolm teams up with Shaggy on "Fuego (R3HAB Remix)," a dancehall anthem that has already earned more than five million digital streams. He also makes room for nearly a dozen additional collaborators on the album's remaining tracks, including KB, Jay-Way, Ty Basel, and Social Club Misfits, the bulk of which were written during an inspired weekend in his hometown of Grand Rapids, Michigan. A 6x Dove Award nominee with multiple Top 40 hits on the Billboard charts, Malcolm has earned his stripes as a Christian hip-hop icon. Tree finds him stretching skyward, reaching new heights while remaining rooted as a songwriter, husband, father, and Man of God.
"I'm zoning in," he says proudly. "I've stood firm in my faith, and I'm still on the front lines. Through all the highs and lows of my career, I've seen fruit be borne from this ministry that God has given me. So what is that, when you're standing firm, you're rooted, and you see so much fruit? That's a tree."
After a brief pause, he smiles and adds, "Remember that Jesus himself was a carpenter. He touched tree every day."
Steven Malcolm's Tree is available today – listen HERE.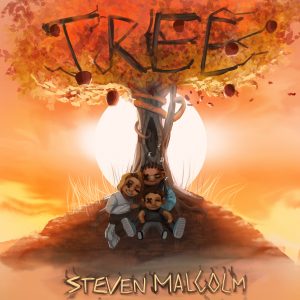 Tree Official Track listing: 
Heavenly Father feat. The Fisk Jubilee Singers
All I Know
Summertime feat. Snoop Dogg & Jay-Way
On Point feat. KB
Believe In Me
Demons feat. Plan G & Jude Barclay
Rooftop Freestyle feat. Derek Minor
Red Light Green Light feat. Ty Brasel & Jay-Way
Accelerate feat. Canon
Ain't Playin feat. Social Club Misfits
Lately
Great feat. Waldo
Respect
Jah Ah De King
Glory On Me feat. Childish Major & Taylor Hill
Fuego (R3HAB Remix) ft. Shaggy
About Steven Malcolm:
 Steven Malcolm makes faith-driven hip-hop that's as unique as his multi-cultural background. It's a diverse sound grounded in rap's rhythmic delivery, pop's modern melodies, and God's word, glued together by a
street-smart artist whose music has earned six Dove Award nominations and more than 70 million streams.
Released in 2021, All Is True blurs the boundaries between Christian music and larger-than-life hip-hop,
delivering universal songs about faith, family, and fidelity. This is hip-hop with a heart, mixing the spirituality of Sunday morning with the energy of Saturday night. It's also an extension of the sound Malcolm has spent the better part of a decade crafting. Raised by a family whose Jamaican-born patriarch was deported back to the Caribbean when his son was only 9 years old, Malcolm first turned to music for a source of stability. He found success in the hip-hop underground with his independent debut, Monster's Ink, then built a larger audience with 2017's self-titled Steven Malcolm. Nominated for three GMA Dove Awards, Steven Malcolm was followed by The Second City, which debuted at Number 11 on Billboard's hip-hop chart in 2019. Tracks like "Fuego''
highlighted his Jamaican roots and reggae influences (both of which were showcased on several remixes, which found Malcolm working alongside collaborators like Shaggy, R3HAB, The SoulBots, and Melanie Pfirrman), while a Dove-nominated remix of "Even Louder" featured his duet with seven-time Grammy nominee Natalie Grant.
About Curb | Word Entertainment:
 In 2016, Curb Records acquired Word Entertainment, combining two of the music industry's most respected global brands, and more than a century of collective experience. Today, Curb and Word are two of the world's leading independent music companies. Owned and operated by Mike Curb, the Curb | Word family includes the labels Curb, Word, Squint, Fervent, Sidewalk, MCC, and IVAV, as well as Curb Publishing, Word Publishing, 25 Live, Curb Films, Word Films, Word Entertainment, and Curb Sports, representing top artists and entertainers in Country, Christian, Pop, Rock, and Hip-Hop. For more information, visit www.curb.com.
Steven Malcolm online: