First Song, "Sparkle," Set to Release Mar. 17, 2023
Nashville, Tenn. (March 6, 2023) — Curb Records officially announces the addition of singer/songwriter Harper Grace to their family of artists, while she also celebrates inking with WME and Jonas Group Entertainment. With dreams the size of her home state, the Texas native is set to "Sparkle" when her first original song bows on Mar. 17, 2023.
"We are thrilled to welcome Harper Grace our wonderful roster of artists," shares Curb Records Chairman, Mike Curb. "Curb has seen great things from her as a songwriter and we are excited to be part of her future as an artist."
Harper Grace also adds, "Can't put into words how surreal this opportunity is. I'm in complete awe that something I've dreamt about as a little girl is coming to pass in this moment. I'm forever grateful to be part of the Curb family, joined by the amazing teams at Jonas Group Entertainment and WME. I thank God for continuing to open doors and opportunities, and I'm looking forward to continuing to share my story and my music."
The newly signed Curb Records recording artist's initial experience in the spotlight came at just 11 years old when her first public performance of the National Anthem didn't go as planned, eliciting widespread criticism from an array of online observers and media outlets. Seven years later, the "American Idol" alum redeemed herself by returning to the same stadium and nailing a version of the patriotic song. Now residing in Nashville, Harper Grace is set to release brand new music in 2023, including her debut offering, "Sparkle," and "Oh Say Can You See," an autobiographical track she penned for her 11-year-old self.
Further proving the critics wrong, Harper Grace will perform "The Star-Spangled Banner" at a variety of NHL games, MLB games and conferences throughout the year. A list of upcoming performances is included below.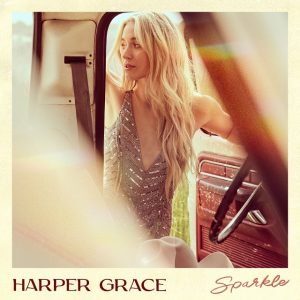 Fans can pre-save/pre-add "Sparkle" HERE.
Upcoming Harper Grace National Anthem Performances:
3/9 – SEC Men's Basketball Tournament // Nashville, TN
3/21 – St. Louis Blues NHL game // St. Louis, MO
5/17 – New York Mets MLB game // New York, NY
5/26 – Cleveland Guardians MLB game // Cleveland, OH
7/6 – 2023 SADD National Conference // Washington, D.C.
Pre-Save/Pre-Add "Sparkle" HERE. Follow Harper Grace's journey on Instagram @harpergracexo.
About Curb Records:

Celebrating 60 years in business, Curb Records is one of the world's leading independent music companies. Owned and operated by Mike Curb since 1964, Curb Records has achieved 435 number one records, over 1,500 Top Ten records and charted over 4,500 total records. With over a half century in operation, Curb Records has been influential in the careers of some of the biggest names in music, including: Tim McGraw, Hank Williams, Jr., Rodney Atkins, Lee Brice, LeAnn Rimes, The Judds, Dylan Scott, Sawyer Brown, Wynonna, Lyle Lovett, FOR KING + COUNTRY, We Are Messengers and Big Daddy Weave, among many others. Today's roster includes some of the top names across multiple genres of music. For more information, visit www.curb.com.
About Jonas Group Entertainment:

Jonas Group Entertainment was founded in 2005 while Kevin Jonas, Sr. was managing his sons, GRAMMY-nominated, multi-platinum selling group Jonas Brothers, and experiencing their record-breaking rise to fame. Housing entertainment management, artist brand development, film and television and music publishing, the dynamic company values quality over quantity with the belief that authenticity, vision, and hard work are key to success. Jonas Group Entertainment is on a mission to help artists realize their full potential in all areas of their career. The company's Artist family includes Darby, Franklin Jonas, Harper Grace, Hayley Orrantia, Hello Sister, Honey County, Levi Hummon, LIVVIA, MaRynn Tayler, Mallary Hope, Mandy Harvey, and The Band Light. Phil Guerini serves as the company's CEO.
About WME:
WME is a leading entertainment agency representing the world's greatest artists, content creators and talent across books, digital media, fashion, film, food, music, sports, television and theater. Named one of Fast Company's Most Innovative Companies, WME is a subsidiary of Endeavor, a global sports and entertainment company.
Top Row, L to R: Founders Legal Entertainment Group's Aaron Rice; Curb Records' Ciara Shortridge; WME's Abby Wells Baas
Bottom Row, L to R: Jonas Group Entertainment's Phil Guerini; Harper Grace